It's too hot to cook! It's too hot to think! It's too hot to want to do anything… period!
At times like these, you need a quick fix, light meal that isn't any trouble at all!
Tangy, flavourful & super comforting, Lemon Rice, is it! This is a South Indian dish that is lightly spiced, with the lentils & peanuts adding a lovely crunch to it. You could have it by itself, with a bowl of yogurt on the side or serve it like a salad for brunch.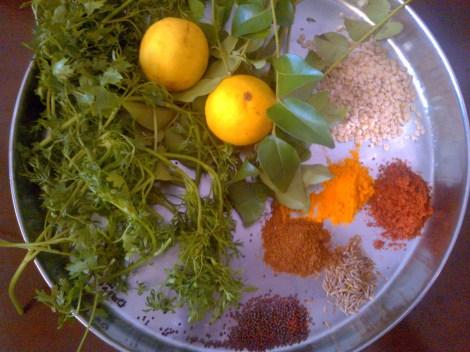 Ingredients
3 cups steamed Basmati Rice
2 Lemons (juice)
5-6 Curry Leaves
1 tablespoon white Urad Daal / White Lentil
1 teaspoon Jeera / Cumin Seeds
1/2 teaspoon Rai / Mustard Seeds
1/2 teaspoon Haldi / Turmeric Powder
1 teaspoon Dhania-Jeera Powder / Ground Coriander & Cumin Seeds
Chilli Powder
Salt
Fresh Coriander Leaves
Roasted Peanuts (coarsely ground)
2 tablespoons Ghee / Clarified Butter
Note:
Fresh Green Chillies & Grated Ginger would work wonders too! Didn't have them at hand, so used Red Chilli Powder. If you use these, add them at Step 2.
Fresh Coconut (grated) would also make a great garnish to this dish, highlighting its "South Indian-ness"
Method
Heat the ghee in a wok & add the curry leaves urad daal, jeera, & rai.
When the spices start to sizzle & the lentils turn a light gold, add the haldi, dhania-jeera & chilli powders & stir fry for 2-3 minutes till you get a beautiful aroma & the flavours all merge together.
Add the cooked rice, lemon juice & salt & mix well so that each grain is coated with the spices.
Garnish with coriander leaves, coconut & peanuts.
Serve hot.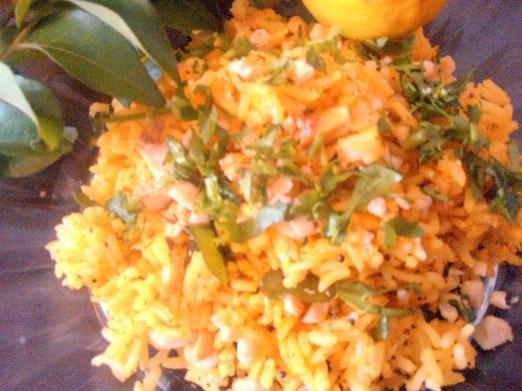 This recipe serves 4