0 Flares
0 Flares
×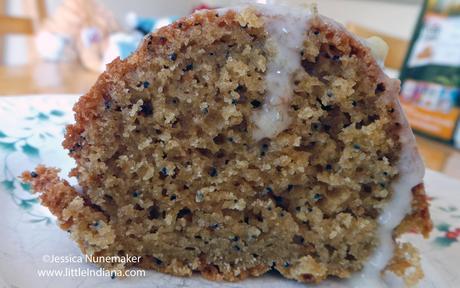 Lemon Poppy Seed Cake Recipe
I know that my love of lilacs and lemons comes from my grandmother–and I believe she would have loved this recipe for Lemon Poppy Seed Cake!
With just a slight bit of lemony sweetness from the glaze, it's a great complement. It would go very well with coffee.
Our family enjoyed it so much that it didn't last long enough to share with the neighbor! Maybe next time!  This recipe is from The Perfect Pantry.com.
Lemon Poppy Seed Cake Recipe
Print Lemon Poppy Seed Cake Recipe
Rating: 51
Prep Time: 10 minutes
Cook Time: 45 minutes
Total Time: 1 hour
Yield: 1 Bundt Cake
Serving Size: 8 - 10
Excellent! I did not use juice from a lemon but the equivalent: 2 Tablespoons Lemon Juice. I also added in more poppy seeds than called for. I used 1 Tablespoon rather than 1 teaspoon.
This recipe is from The Perfect Pantry.com.
Ingredients
2 Cups Flour
1 teaspoon Baking Powder
1 teaspoon Baking Soda
1/4 teaspoon Salt
1 teaspoon Poppy Seeds (I used 1 Tablespoon)
1/2 Cup Butter, Softened
1 Cup Granulated Sugar
2 Large Eggs
1 teaspoon Vanilla Extract
1 Tablespoon Lemon Zest
1 Cup (8 Oz) Sour Cream
Glaze
1 Cup Powdered Sugar
Juice of a Whole Lemon
1 Tablespoon Dry Lemonade Mix
Instructions
350* oven.
Grease Bundt pan and set aside.
In bowl, combine Flour, Baking Powder, Baking Soda, Salt, and Poppy Seeds.
In bowl of an electric mixer, cream together Butter, Granulated Sugar, and Eggs. Mix well.
Stir in Vanilla Extract and Lemon Zest.
Add to the Egg Mixture, alternating Dry Ingredients and Sour Cream.
Scrape batter into Bundt pan.
Bake 350* for 45 minutes or until knife comes out clean.
Let cool on wire rack for 15 minutes, invert pan, and remove cake. Let cool on wire rack.
Glaze
In small bowl, combine Powdered Sugar, Lemonade Mix, and Lemon Juice.
Drizzle over top of cooled Lemon Poppy Seed Cake.
Serve.
Schema/Recipe SEO Data Markup by ZipList Recipe Plugin2.2
http://littleindiana.com/2013/08/lemon-poppy-seed-cake-recipe/
Photos are the Property of little Indiana. Do Not Use Without Permission.
Find pictures in Indiana on my Flickr photostream or on the new little Indiana Tumblr blog.
Just don't forget to tell 'em that  little Indiana sent you!
Don't miss a moment. Subscribe to little Indiana and receive instant updates to stay on top of everything "little."
little Indiana: Where to Stay, Play, and Eat in Small Towns in Indiana. Discovering Indiana's best small towns! Now get little Indiana on your Kindle.
Targeted. Relevant. Affordable! little Indiana advertising.