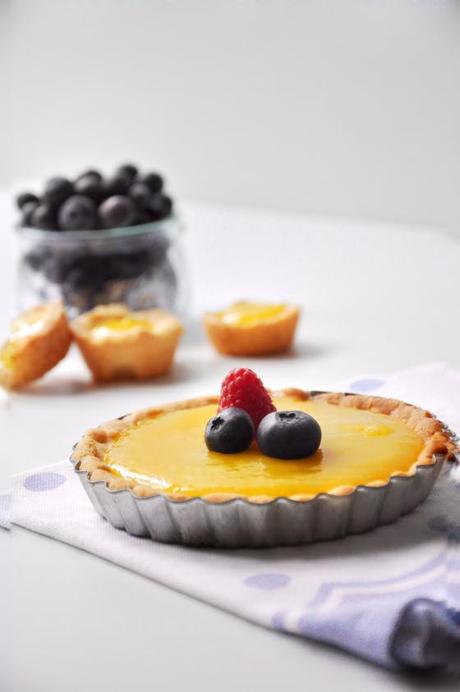 Lemons, lemons, lemons!! When I stayed in Italy, everywhere one could see lemon and olive plantations. Seeing those large and juicy lemons tempted me to bring some lemons back home to make some homemade lemon curd tartelettes which are a delight for every lemon lover. I had not found the perfect curd recipe until Noemi showed me this one. It´s easy to make and so delicious you will have to keep yourself from nibbling it all before filling the tarts.
This is what you will need…
for the crust
230g flour
a pinch of salt
2 tsp. sugar
150g butter
3-4 tbs. cold water
Combine flour, salt, sugar and butter in an kitchen mixer or use your hands. Knead butter into flour mixture until no butter lumps remain. Add cold water and knead/mix until dough is smooth. Roll out dough on a floured surface just to fit the size of your pie molds. Lay pie crusts into molds. Prick each dough using a fork and bake in oven for about 15 minutes. Remove from oven and let pie crusts cool out.
for the curd
2 lemons
75g butter
150g sugar
a pinch of salt
1 egg
3 egg yolks
1 tbs. cornstarch
300g blueberries
Wash lemons, grate zest and squeeze out juice. Heat butter in a small sauce pan until melted. Add sugar, salt, lemon juice and zests and heat on low temperature. Constantly stir the curd. Now add egg, egg yolks and cornstarch and keep string until curd thickens. Remove from stove. Fill curd into baked pie crusts and let tartelettes cool off.
Last but not least dust with powdered sugar, garnish with berries and serve.
mmmh…
enjoy!!
Nadja