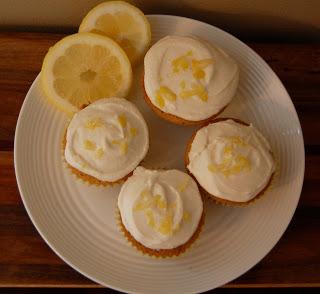 I love desserts that incorporate lemons in the summer-- something about sweet mixed with sour is just so delicious on a hot day. So I recently came up with this super tasty recipe for lemon cupcakes and they are amazingly good. They taste equally great warm out of the oven or chilled. Also, they are vegan so no eggs or butter are used but they are still incredibly moist. So try this recipe out on one of the hot summer days coming up and let me know what you think!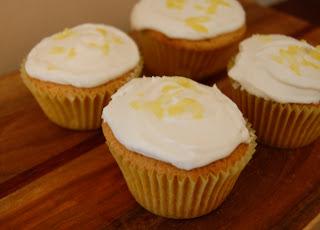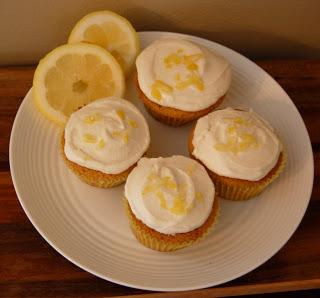 IngredientsCupcakes1 ¾ cups flour1 ½ tsp baking powder¼ tsp salt½ cup vegan butter (I like Earth Balance)¾ cup sugar1 tbsp apple cider vinegar1 tsp baking soda½ cup almond milk¼ cup lemon juice
Frosting16 oz confectioners sugar½ tbsp lemon juice1 tsp vanilla1/2 cup almond milk1/2 cup vegan butter (room temperature)Finely grated lemon zest (for topping)
MethodPreheat oven to 350. Using an electric mixer beat butter with sugar until thoroughly blended. Next mix apple cider vinegar with baking soda and mix into the butter/sugar. Add lemon juice. Now stir together salt, baking soda, and flour in a separate bowl. Alternate adding milk and flour mixture to sugar/butter mixture until completely blended. Bake at 350 for approximately 20 to 25 minutes. 
While cupcakes are baking, cream butter for frosting. Add confectioner's sugar, milk, vanilla, and lemon juice and blend until creamy. Top cooled cupcakes with frosting and lemon zest.