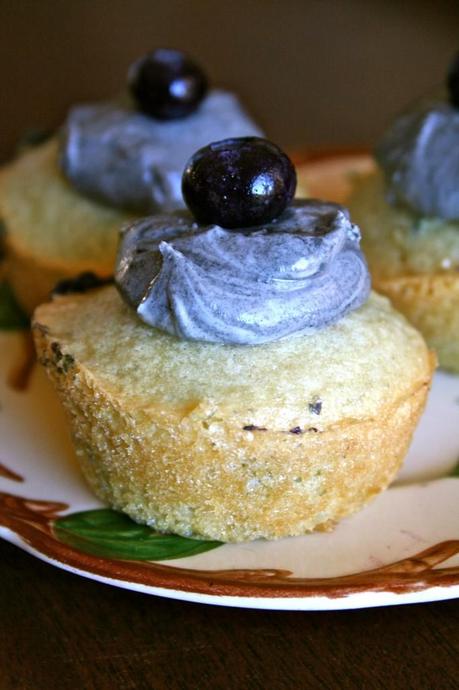 Ryan and I found out on Wednesday afternoon that we're having a little….
Oh wait! I can't tell you until tomorrow! Ryan and I are announcing the exciting news to our family tonight, which means my BOY or GIRL post will have to be released tomorrow morning. So check back in for the good news. We couldn't be more proud or excited.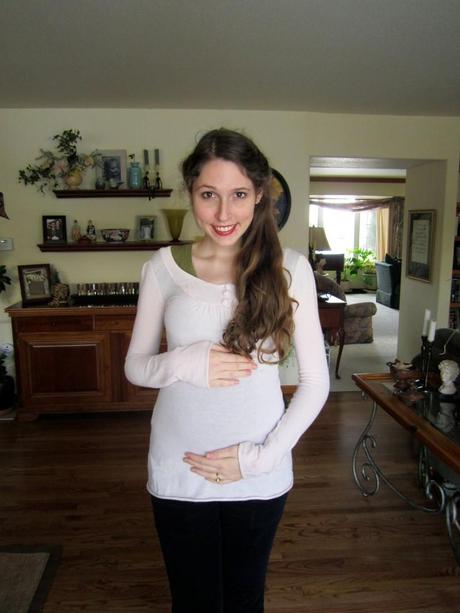 In the meantime, let me entice you with these lemon blueberry cupcakes. Moist and sweet, they serve well as mid-morning snacks with a cup of coffee or at dessert with a drizzle of white chocolate ganache. Cupcakes have been quite the rage for the past several years, and yet I still can't get enough of everyone's favorite treat. If you have a good base recipe, the possibilities for variety are endless! My dad eats blueberries every single day (he's 72 years old and in amazing health) so his daily ritual inspired me to throw a few of those purple gems into my favorite vanilla batter.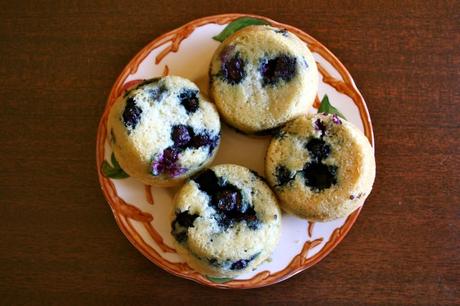 And if you happen to be the sort that watches football, these lemon blueberry muffins can also help you support your favorite team. Whether we have a little girl or a little boy, I know he or she will grow up watching football. Ryan's family LOVES the Broncos, and although we're still bitter about our post-season loss, it doesn't mean we won't choose a side to cheer for on Sunday.
Ryan and I lived in Baltimore a few years ago, and two of my favorite people, Ryan's great-aunt Connie and great-uncle Frank, are HUGE Raven fans. So these cupcakes, covered in a black white chocolate ganache are in honor of the Ravens, Baltimore, and two of the coolest old people I know. McCormick generously sent me a package of food dye to help with this football project. They're based in Baltimore too…so we all know who they will be cheering for on Sunday. Their website has several other fun Super Bowl eats, so be sure to check it out if you're in need of inspiration.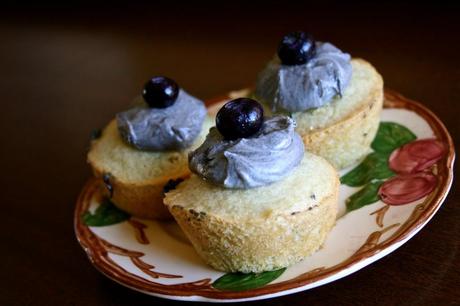 Lemon Blueberry Cupcakes
1 2/3 cups cake flour (not self-rising)
1/4 teaspoon baking soda
1 teaspoon baking powder
1/2 teaspoon salt
1 stick unsalted butter, softened
2/3 cup granulated sugar
2 large eggs
1 teaspoon pure vanilla extract
3/4 cup sour cream
6 ounces blueberries (1 1/4 cups) 2 tablespoons lemon juice 12 oz (ounce) white chocolate (good quality)
1.5 cup(s) whipping cream Several drops of
McCormick purple or black food coloring
(if you happen to be partial to Baltimore)
1. Make the cupcakes: Preheat oven to 375 degrees farenheit. Line cups of a standard muffin tin with baking cups or grease with melted butter. Sift together flour, baking soda, baking powder, and salt in a small bowl. In a large bowl, beat together butter and sugar with a mixer on medium-high speed until pale and fluffy, 2 to 3 minutes. Beat in eggs, 1 at a time, then add in vanilla, scraping down sides of bowl. Reduce speed to low, and fold in flour mixture in 3 additions, alternating with sour cream and beginning and ending with flour. Fold in blueberries.
2. Divide batter among baking cups. Bake until golden and a toothpick inserted in center comes out with moist crumbs attached, 20 to 21 minutes. Remove cupcakes from tin, and let cool completely on a wire rack.
1. For ganache. Place the chocolate and cream in the top of a gently simmering double boiler (or just put one saucepan on top of another, this is what I usually do as I don't own a double boiler). Stir occasionally until the chocolate is melted, about 10 minutes. Remove from heat. Allow to cool for one hour in refrigerator if you'd like to "frost" your cupcakes OR drizzle warm ganache over cooled cupcakes.
Monet
Anecdotes and Apple Cores