Hey everyone!
you all know how much i loves and adore Leighton Denny products, right? Weeelll when i heard he was releasing a riviera collection, i just about cried with excitement** (** slight exaggeration).
Well i was sent over 2 of these (im going to buy the others muwahaha) one is called "get your cote" and another is called "yes we cannes".
The colours are very nautical and inspired literally by the French Riviera. Im not sure if these are available to buy just yet, but if not they will be veeery soon.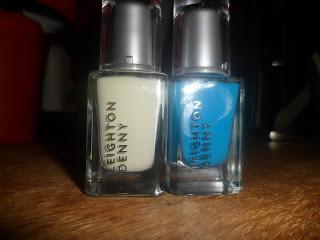 As you all know, Leighton Denny polishes last forever and a day! you wont get chips or anything like that for a good few days, and the color is second to none.
Just FYI, here's a short video i did on the Leighton Denny polishes.

xxxxx