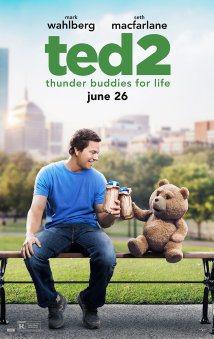 Seth MacFarlane returns as writer, director and voice star of Ted 2, Universal and Media Rights Capital's follow-up to the highest-grossing original R-rated comedy of all time. Joined once again by star Mark Wahlberg, Amanda Seyfried joins the cast and fellow TED writers Alec Sulkin & Wellesley Wild, MacFarlane produces the live action/CG-animated comedy alongside Bluegrass Films' Scott Stuber, as well as Jason Clark and John Jacobs.
The original "Ted" scored $550 million in global ticket sales, qualifying it as one of the smash successes of 2012. Could the sequel score even bigger?
In Ted 2, life has changed drastically for thunder buddies John (Mark Wahlberg), now a bachelor, and best pal Ted (Seth MacFarlane), now married to the woman (Jessica Barth) of his dreams. Problems arise when the couple decide to adopt a child, but the law declares Ted to be property and not a person. Angry and dejected, the lovably foulmouthed teddy bear must now seek legal help from a young lawyer (Amanda Seyfried) and a legendary, civil-rights attorney (Morgan Freeman) to get the justice he deserves. Check out the trailer below.
Ted 2  is out in theaters this Friday, June 26.