The last two weeks have been a whirlwind of bad press for R&B sensation Miguel and Fast food giant
Taco Bell
.Just in case you have absolutely no idea what i
s
going on recently in entertainment news, allow me to briefly update you on the first section of a two part blog series.
                                           Miguel's Billboard Leg Drop Injures Female in Audience.
R&B Singer Miguel was performing at the
Billboard M

usic Awards
and in the heat of his performance, he leaped from one side of the stage
to
the next. This leap was great for showmanship but he broke his fall
on
two
females
that resulted injuries.Examine the animated photo below :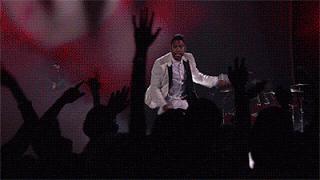 Photo Credit : www.everyjoe.com
    According to
Twitter posts from bystander
s, Miguel stayed
backstage
with the  girl and offered to
escort
her to the hospital. The media definitely had a field day with the
singers'
stage antics, but there were mixed feelings about the incident.  At first, it seems she was in
great
condition
, now the headlines from the Huffington Post reads,
"Miguel's Leg Drop Victim May have suffered Brain Damage, Might Sue"
.

Headlines from Inquistr.com
With news like that, it is time to put both PR teams to
work
;
Prometheus Global Media
(parent company of Billboard) and Miguel.However, it sees
as
though
the Billboard has started to clear their name in the incident By releasing a statement claiming that they did not clear Miguel to make the jump. Miguel's response to Billboard's insinuates that they did not say that he
couldn't
jump. How can anyone prove these statements from either side?

The solution to this PR trauma is quite simple.  The main concern in this instance is Shah (victim); both Miguel and Prometheus teams should reach out the family. What I
also
notice, is that Miguel or Prometheus did not formally apologize. In the excitement of the Awards, it is
possibility
that the proper words were not said. Maybe lawyers advised that an apology is the admittance of guilt, but legalities
aside
, Miguel should at least issue a public apology to the Shah and her family. Whether or
not
Billboard gave him to clearance to jump, as humans, we have a moral
responsibility
to help those we hurt. There should be photos of Miguel and Shah together , ascertaining about her well-being. Now, if those
pictures
started circulating the web then it will overshadow the
memes
and Miguel jokes, and his reputation can be salvaged. If in fact that Miguel does get sued, it should be amicable inside or outside the courtroom.                                                     That is what PR would do.
In any case, will there be stern restrictions on live stage
performances
from this day onward? Will there be audience members located so
close
to stage? Exactly what would come out of this incident?To all the future live stage performers out there, please be careful.