Half way through making this, I realised that the recipe I was basing the dish on, was completely wrong.  All of the quantities were out, which isn't very good really, as it came from the BBC Food site.
And so, I have changed it completely.
I make a ham and mushroom risotto that is absolutely delicious, but takes around two hours to cook, so it's not really something I'm going to put together on a Monday evening.
I have a couple of boxes of arborio rice in my cupboard with rapidly approaching 'best before' dates, so I am  going to be working my way through a few different risotto ideas over the next few weeks.
So, this Leek Risotto, will take around 30 minutes to cook and serves 2.  The picture of the ingredients is based on the original crap recipe, so you go with what is listed below instead!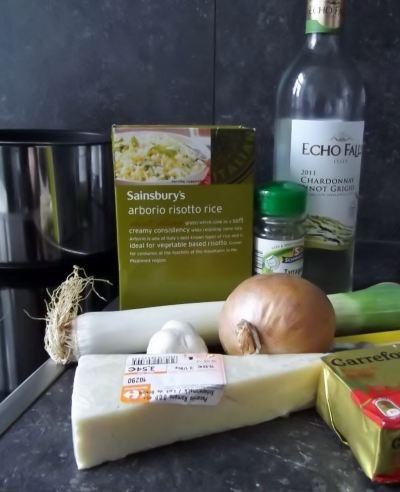 1 large or 2 medium leeks

thick slice of butter

200g Arborio rice

150ml (small glass) (or a large glass, then drink half of it and use the rest for dinner) dry white wine

450ml hot chicken stock

3 tablespoons grated parmesan cheese (or really, you can use as much as you like)

smallish pinch of tarragon

seasoning
Start by putting a large pan (I find a saucepan or casserole dish much easier than a frying pan) on a medium heat. While the pan is warming up, chop your leeks.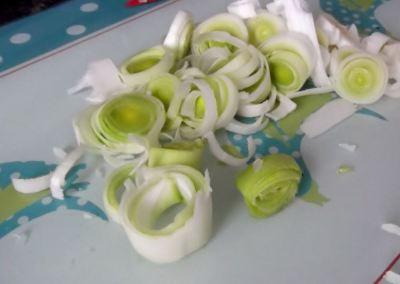 When the pan is warm, add the butter, give it a minute while to starts to melt, then add the leeks and the tarragon. Give the leeks a few minutes to become soft and then add the rice.  Stir the rice, until it is coated in the butter, then add the white wine.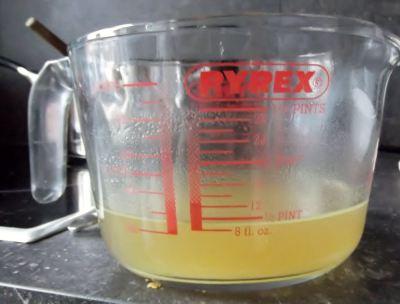 While that is bubbling away (give it a stir every now and then) make up your chicken stock.  Once the wine has gone from the rice, start adding your stock, one ladle full at a time.
It is a simple procedure, add a ladle of stock, stir it regularly while the rice absorbs the stock, when the saucepan starts to look dry again, add another ladle of stock and repeat until you have no stock left.  Keep tasting it to see how it is doing and if it needs any seasoning.  The usual salt and pepper should be enough, although depending on the type of stock cubes you have used, it may not need any salt.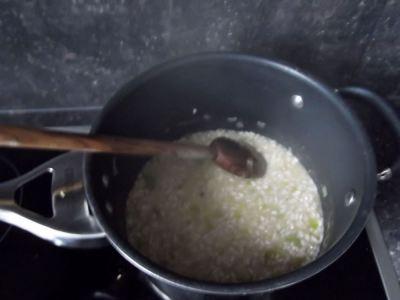 Once you've added all the stock, give it a couple more minutes to simmer.  While it was doing that I chopped up some tomatoes and cut some bread to go with it.
Just before you are ready to serve, stir in the parmesan cheese (or you can sprinkle it on top of the risotto after you have served it, if you prefer). Then pop it on plates or in bowls.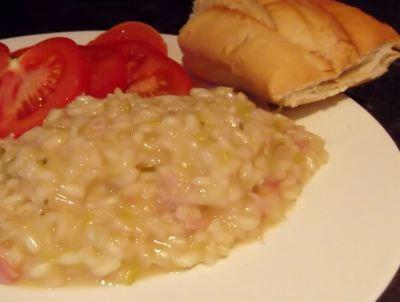 If you have followed by recipe, your risotto will look nicer than this.  I didn't realize that the other recipe was wrong, until I had added far too much stock, hence why it looks so gloopy.  Yours shouldn't be gloopy – although if you would prefer it to be, just up the stock to 750ml, rather than 450ml.
But I guess this is why I make the mistakes, so that you can avoid them!  Let me know if you cook this…