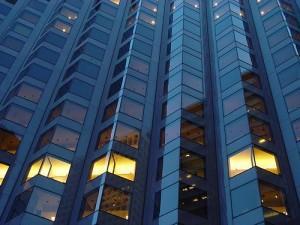 Am I the only one who thinks there is something wrong with the LEED system?
Don't get me wrong, I think we should definitely, absolutely be grading buildings on how green they are. I think we should reward people — companies, developers, homeowners — for using less natural resources, and there should be some way of calculating that.
LEED is great idea.
But articles like this one in the New Republic worry me.
In short, the new Bank of America building in New York, touted as one of the greenest skyscrapers in the city, isn't living up to its sustainable promise.
No doubt, as the article points out, that is largely because of the type of work the building houses — trading floors with round-the-clock computers gulping down watts, but I wasn't surprised the author concluded, "The problem is that real-estate developers have been able to game the system, racking up points for relatively minor measures."
I was recently chatting with an L.A.-based architect about a new building there. She told me the 70-story hotel and office tower is expected to be LEED (Leadership in Energy and Environmental Design) Silver certified. She also told me one of the design features is a top-floor lobby, which means that every single guest will automatically head to the top floor of the building.
How is that sustainable?
As it turns out, the use of the building is less important than the elements of the building. It doesn't matter how many extra trips in an elevator an architect designs into the use of the building. All that matters is the elevator is high-efficiency.
Maybe it seems like I'm quibbling over a small issue, but I think it's representative of a larger trend within the sustainability certification process. Considering the Bank of America building received $947,583 in incentives from the New York State Energy Research and Development Authority and the developer of the Los Angeles project also asked for tax breaks, it might be worth exploring how we should evaluate sustainable development.
 Trading on a LEED certification isn't out of the question, but what that certification means might be.