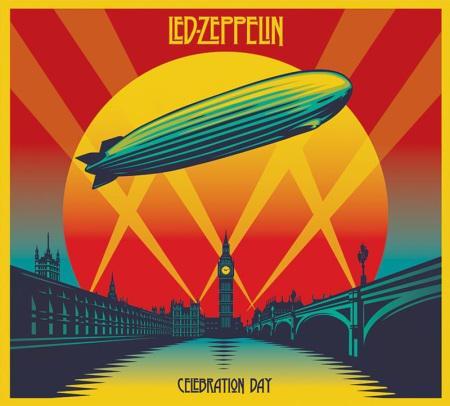 Led Zeppelin's long awaited official release of their 2007 reunion show at the O2 in London hits the shops on Novemebr 12. Before that Celebration Day will be screened worldwide:
The film will make its U.S. debut at the historic Ziegfeld Theater in New York's theater district on October 9. Prior to the premiere, founding members John Paul Jones, Jimmy Page, and Robert Plant will be joined by Jason Bonham, the son of their late drummer John Bonham, for a press conference at New York's Museum of Modern Art.
Celebration Day will then have its U.K. premiere at London's legendary Hammersmith Apollo on October 12. Jones, Page, and Plant will also be attendance for this special event and a limited number of tickets will be made available to fans for £20. More ticket info can be found here.
Premieres for the film will follow in Berlin on October 15, where Jones is confirmed to attend, and Tokyo on October 16, which will have Page in attendance.
The film of Celebration Day will see a worldwide theatrical release by Omniverse Vision on 1,500 screens in over 40 territories on October 17. Tickets for the public screenings are available now via ledzeppelin.com.
Tracks:
Good Times Bad Times
Ramble On
Black Dog
In My Time Of Dying
For Your Life
Trampled Under Foot
Nobody's Fault But Mine
No Quarter
Since I've Been Loving You
Dazed And Confused
Stairway To Heaven
The Song Remains The Same
Misty Mountain Hop
Kashmir
Whole Lotta Love
Rock And Roll
Available formats:
Standard Editions – 1-DVD/2-CD set and 1-Blu-ray/2-CD set
Deluxe Editions – 2-DVD/2-CD set and 1-Blu-ray/1-DVD/2-CD set featuring exclusive bonus video content including the Shepperton rehearsals, and BBC news footage
Music Only CD Edition – 2-CD set
Music Only Blu-ray Audio Edition – Blu-ray Audio release featuring high-resolution 48K 24 bit PCM stereo and DTS-HD Master Audio 5.1 surround sound audio only, no video
Vinyl Edition – 3 LPs, 180-gram, audiophile quality vinyl (Available December 11)