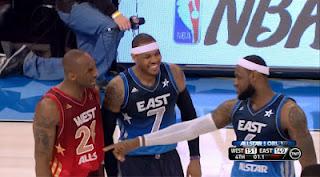 LeBron James reminds me of the Charles Dickens' novel 'A Tale of Two Cities' famous expression, "it was the best of times, it was the worst of times..."
James is having a season, at least statistically, that clearly has him in the MVP conversation. There's no need to recount how many triple doubles he's had this year, average points scored, the multi-game winning streaks he's ignited for the Heat etc...-The Worldwide Leader In Sports does that on a daily basis. Truly on that basis, "it;s the best of times.." for LeBron James.
"...It's the worst of times " for James when it comes to the fourth- quarter, specifically the last 24 seconds of the fourth-quarter of any NBA game he's playing in. I'n not going to pile on about James' disappearing act in playoff game settings, thereby leading to zero rings. Again, The Worldwide Leader and one of it's pundits nicknamed 'Skip', does that daily. However, i will take notice of recent play by LeBron James. The 2012 NBA All-Star game showcased the best and worst of LeBron James for all to see. Dazzling Dunks, 3-pointers from any spot on the floor, defensive stops, a magnificent All-Star performance, until....
Until the last possession of the game. Kobe Bryant decided to guard James on the last 30 seconds of the game , well we all know what happened... I chalked it up to LeBron being LeBron and after all, Kobe is Kobe. That pass was rescinded after LeBron was LeBron just a few days ago against The Utah Jazz. The Utah Jazz? LeBron once again, was having a marvelous game, the game was winding down, the ball was in his hands and he ....passes to Udonis Haslem, to take the last shot?
What? For those that will defend his good basketball decision, i ask you to take notice of the photo above. The best basketball players on the planet also have one question for LeBron James:
"LeBron-Will You Please Just Take The Last Shot?"