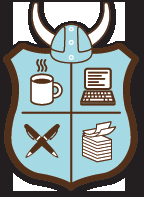 It's October which brings about the winds of change. The air is turning cooler, the leaves will begin to change color, and budding authors around the globe are about to change into energy drink consuming plunderers of the keyboard.
That's right novelists, it's almost NaNoWriMo time. I've partaken in the grueling marathon of 50,000 words in thirty days since 2009 - but I've only won once. That's almost 1400 words a day at the minimum in order to succeed and get your shiny badge and bragging rights.
Success is not guaranteed though. In fact, it feels like failure is.  NaNo seems easy for anyone who considers themselves able to string a couple of stories together, but when the euphoria of "It's time for NaNo!" wears off and you're left with the idea of actually having 45K more to go, it's pretty easy to turn around and run away. In fact, I admit that in 2011 I completely imploded. About four days in, I threw my hands up and walked away.
This article from Psychology Today suggests that failures might actually shape us in a more definite way than success does. The assertion actually makes a lot of sense. Think about your latest success - what did you learn from that specific success. 2011 NaNoWriMo showed me all of the things I needed to do in order to have a better chance in 2012.
When I won in 2012, I knew it was because of two very big changes I made in light of the previous year - I outlined the entire novel and did word games with friends to give big boosts to my word count in a short time. In 2011, I took a very solo approach to NaNoWriMo despite that my friends we were working hard on theirs as well.
I can't do it alone. 
Getting a 500 word boost in a matter of 20 or 30 minutes puts a huge dent in your daily goal. The task was less daunting when I had someone to work with.
Creating an outline meant I wasn't going to get bogged down in the direction of plot or "what happened then" questions. I had every move that each character was going to make down on the page, so all I had to do was create the story around it.
I honestly think that without my utter and complete NaNo meltdown in 2011, I would not have been able to "win" 2012 NaNo. I learned a lot in 2011 and I applied all of those "well, I'm not going to do that this year" thoughts, which I think helped me succeed. One might even say that my failure was the reason I succeeded.
What's going to be most interesting to me is competing again in 2013. Will the same drive push me to finish, or will I feel more complacent in succeeding? I wonder how much is to be said for being a back to back NaNoWriMo winner.
---
Looking for ways to improve your speaking abilities? Here are four more resources:
Our Book on How to Make Meetings Great - Lessons from the Bored Room
Our eBook on Webinars - How to Plan, Setup, and Execute a Successful Webinar
Non-Verbal Communication Resource
The Everything Guide to Public Speaking