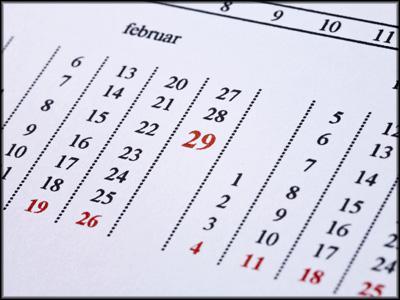 Credit:Travel Channel
February 29...it only comes around once every four years. And while it seems like just another day, its elusiveness and rareity make it special, almost mysterious. Why do we have this one extra day tacked on to the end of February? What is its purpose? What makes it so different? (Other than the fact that it doesn't happen each year.) What about people who are born on a leap day, when do they celebrate their birthday? And how old are they really? And how do most people spend this "holiday?"
To answer one question, it actually doesn't take the earth 365 days to circle around the sun, it takes 365 1/4 days. Those six extra hours add up to 24 over four years, and so we add Febraury 29 to the calendar in order to stay in sync with the sun. Basically, without this day, annual events would slowly shift seasons. Can you imagine Christmas in any other month but December?
"Leaplings" or "Leapers" are people who were born on February 29. Since they can't celebrate their actual birthday every year, many people will choose between February 28 or March 1 as the day to acknowledge their birth. As far as legal allowances--driving and drinking--those are granted are whichever day a region deems official.
When it comes to traditions related to Leap Day, one of the most noted is the Irish tale where women are not allowed to propose to a man, except on Leap Day. According to legend, St. Brigid, who lived in the 5th century, ran a convent for women angered by the fact that they could not propose marriage. Brigid approached St. Patrick and asked that the rule be changed. He agreed, but with the stipulation that they could only do it once every four years on Leap Day.
Now that we've gotten a little bit of the history and mystery about February 29 out of the way, what do you plan to do with this extra 24 hours?
If you happen to live around Orlando, Fla. or Anaheim, Ca., you might want to venture over to a Walt Disney theme park, becuase it is officially "One More Disney Day." Both parks will be open 24 hours straight today. If you didn't get there right when the gates opened at 6 a.m. this morning, maybe make a trip later in the evening, the lines probably won't be very long, providing plenty of time to ride.
If you find yourself near Martha's Vineyard, why not try to get a free bottle of wine? Vineyard Square Hotel will provide one on  the house if you snap a photo of yourself leaping over something. The Sanderling resort in North Carolina offerd a "Leap to the Beach" room deal that costs $250 for the first night, and $29 for the second. This deal is good Sundays through Thursdays in March, and reservations must be booked on February 29. Kimpton's properties rolled out a "Leap into Spring" sale today, that gives guests a 29% discount on stays March 1-April 15 at three of its properties in Alexandrida, Va.
A number of online travel websites and hotels are offering special deals for Leap Day. If you are a leapling, there are plenty of dicounts and offers made especially for you. Mammoth Mountain in California is offering leaplings a free nights stay at any of the four resorts.
Luxehotels.com
and leapyearday.com both posted a list of hotel offers around the world that include free rooms for leap year babies, $29 upgrades and 29% off the best available rates.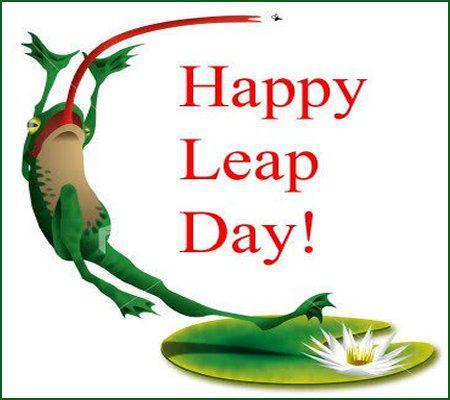 Leap Day Greeting Card
And in case you didn't know, there is a Leap Year Capital of the World located right here in our very own country. Anthony, Tex., and New Mexico, has been given this title because it "leaps" the border of the two states. It hosts a worldwide festival every four years, with an official parade, car shows, golf tournaments, ice hockey games, and much, much more. So if you're nearby, head on over and join the party.
Whether you were born on this "holiday" or not, it is certainly a unique day that everyone should acknowledge in some way. Do something different, crazy, out of the ordinary, because you won't get to celebrate this day for another four years.