The healthcare industry fa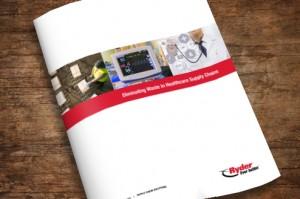 ces a variety of challenges in its efforts to drive process improvement and maintain low costs, all without compromising patient care. One target area often overlooked is, one of the largest cost drivers in the organization: the supply chain. As the second-largest cost driver in the healthcare industry, the medical supply chain can be an advantageous target for both process improvement and cost reduction.
Ryder's new whitepaper "Eliminating Waste in Health Care Supply Chains," examines how LEAN processes can transform medical supply chains to reduce costs.
Already proven in across industries in such departments as finance and accounting, customer service centers, research and development organizations, the whitepaper discusses how LEAN process improvement in healthcare supply chain operations in both the public and not-for-profit healthcare sectors can deliver significant value.
For example, the H. Lee Moffitt Cancer Center and Research Institute increased procedural volume by 12%, which adds nearly $8 million annually in incremental margin. St. Vincent Indianapolis Hospital made a 78% cut in the number of steps emergency department nurses take to get supplies.
According to an Industry Week article, medical supply chains that have implemented LEAN processes have cut costs by more than 20% in the first year.
Download Ryder's "Eliminating Waste in Healthcare Supply Chains," now.