Baseball is a very hard game to play.  The hardest part of the game is hitting the baseball.  Hitting becomes even harder whenever the batter is distracted either mentally or visually.  That being said, here's a piece of advice for base runners who are at second base. 
SETTLE DOWN OUT THERE!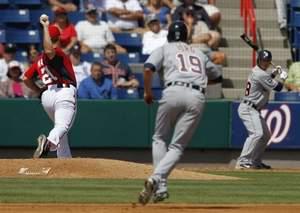 Movement by the runner at second base can
be directly in line with the batter's vision
Base runners at second base who jump around in order to distract the pitcher usually end up doing more to distract their teammates up at bat.  When a batter is looking in the direction of the mound, he will be able to see the base runner as well.  This is even more the case when a left handed batter is up and a right handed pitcher is on the mound (photo).  In this case, the batter's vision lines up almost exactly with the pitcher's arm and the runner at second.
The human eye is programmed to detect and focus on movement.  If there is movement behind the pitcher, the batter's eyes are conflicted.  Do they focus on the movement of the pitcher or the movement behind the pitcher?
Of course, as I've mentioned before in previous posts, there are exceptions to most every rule in baseball.  Any runner who is attempting to steal third base is technically "distracting" the batter with his movement. But nobody would say to never steal third base.  Stealing third is part of the game.  What I am referring to is "unnecessary" distractions.  An example would be a slow runner who is not stealing who jumps around the bag simply as a way to distract the pitcher.  Another would be a base stealer at second with two outs and a good hitter at the plate.  On a base hit with two outs, the fast runner is probably going to score just as easily from second base as he would from third base.  Therefore, no attempt to steal third is necessary.  It becomes more important to give the hitter the best shot at seeing the ball well out of the pitcher's hand and letting him hit.
Taking a normal walking lead off second base is perfectly fine.  Just avoid the actions that are probably going to do more to distract your own teammates when they are in important hitting situations.