Lavender Luxury Fragrance Oil – Fragrance Oil Spotlight
Lavender Luxury Fragrance Oil is a floral scent by Natures Garden. This is an upscale spa like scent that not only smells amazing in handmade soap, it is also fabulous in homemade candles.  One reviewer, using it in both applications, says, "OMG I love this fragrance. I'm not a fan of lavender, but this is amazing!! I made a relaxation soy candle and it has great throw. I also used it in M & P soap and it is just wonderful!! Love it!!"
What Does Lavender Luxury Fragrance Oil Smell Like?
This fragrance oil by Natures Garden is a lavender lover's dream! A tranquil combination of fresh herbs and cool camphor. Unique and lovely! Natures Garden's lavender luxury fragrance begins with top notes of Italian bergamot, eucalyptus leaves, citrus zest, and French lavender; followed by middle notes of lily of the valley, and clary sage; sitting on base notes of Nordic pine, cool camphor, and clove buds.
How Do Our Customers Use Lavender Luxury Fragrance Oil Bath and Body Recipes?
First, our customers who create their own bath and body creations can include this floral scent in their recipes. Homemade cream, bath teas, lotions, and many more bath and body products can use a maximum of 5% scent. Also, this aroma will perform perfectly in perfumes using up to 5% Lavender Luxury scent.
Moreover, this lavender blend fragrance oil can be used to create soaps. For instance, our Cold Process Soap Testing Results have shown Lavender Luxury Fragrance Oil performs wonderfully. Foremost, a batch containing this scent will have no ricing, no acceleration, and no separation. The final product will maintain a beautiful scent that is strong and true. Also, the soap bar will not have any discoloration after cure. If you want to color your bath and body products, then we suggest using purple soap colorant in an amount that you desire. Just remember to never use candle dye in any body products.
How Do Our Customers Use Lavender Luxury Fragrance Oil Room Scenting Recipes?
A wide variety of room scenting products can be created using this tranquil fragrance oil. Potpourri and incense can use a maximum of 50% of this lavender fragrance oil recipes. Also, any homemade cleaning products can be created utilizing 4.6% Lavender Luxury Fragrance Oil in the recipe. Additionally, the scent can be used to create strongly scented aroma beads.
Furthermore, this unique lavender fragrance oil can be included in candle creations. Any candle product that is made using vegetable or paraffin waxes can include up to 10% of this fragrance oil. Joy wax and WOW wax will both allow you to create strongly scented candles. Also, the scent will remain nice and strong in candle products that are made from soy wax. If you want to add color to your candle products, then we suggest using either two drops of purple liquid candle dye or a small amount of shredded purple color block per four pounds of wax.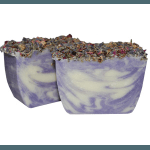 Finally, If you're looking for a lovely cp soap recipe that includes our Lavender Luxury Fragrance Oil, then you may want to try our Lavender Luxury Cold Process Soap Recipe!