has been through some ish, but she's on the other side of it now with a brand new EP called Getting Over Him.
The 25-year-old from Rossville, Georgia has six new songs on her EP, including the title track and appearances from Jon Pardi and Lukas Graham included. Over 20 minutes, she works through the downs and gets to some sweet ups too, and it all works in because that's what country does so very very well.
If you're wondering where to get started, I recommend the title track. Hit play now.
Lauren Alaina - Getting Over Him (ft. Jon Pardi)
Earlier this summer, when talking about the album, the song came up and Lauren said, "I've done duets with other people for their projects, but I have never done any for my own. I've got a duet with Pardi on his album, and then he loved this one [Getting Over Him]. His energy is so amazing. I can't believe I have a rebound song - but I do. (Laughs)."
We're glad that she finally did one of her own after working with artists like Kane Brown ( What Ifs) and HARDY ( ONE BEER). And it isn't that the other ones aren't great - because people love them, and What Ifs went all the way to #1. But it is wonderful to have Lauren Alaina have ownership of this duet with her friend and label mate Jon Pardi.
In a tweet, after midnight EST, just after the album was released, Lauren Alaina tweeted...
He may not have loved me, respected me or treated me the way I deserved, but he gave me some music I am SO proud of. Writing #GettingOverHim reminded me what I deserve. I hope you love it. Let me know what you think 💕 https://t.co/8clqcmLAx2

- Lauren Alaina (@Lauren_Alaina) September 4, 2020
Good for her!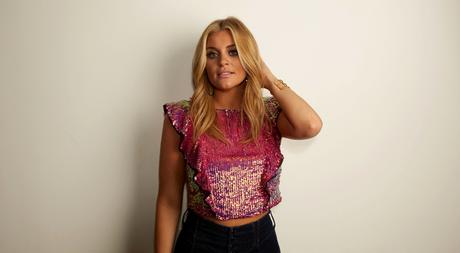 Run is another track that stands out for me on the EP. I like it a lot in the lyrics, the groove, and the thought that Lauren Alaina put into it.
She says, "We are all running. Constantly. Non-Stop. Even in this quarantine we are all still the busiest we've ever been. Life just keeps going and going and going in unbelievable paces as we try to race ourselves to the next thing. My idea with the song was to refer to examples of all things that run because no matter what your walk of life is, we are all racing to the next thing. We are all trying to get where we are going. We all get our hearts broken. We all have these childhood dreams. We 'run' to make it all happen."
I mean, honestly, she's not wrong. Take stock of your life and you'll find a lot of running from one task to the next, Monday to Friday, January to December. To the next step in accomplishing our goals and dreams. I feel it. I don't doubt that lots of other folks will too.
Lauren Alaina - Run
Getting Over Him isn't a long listen, but I felt like I knew where I was at and I was in a rhythm with the content. And then I got to track five out of six and Seen You In Your Hometown threw me off, and I liked it.
Now, there's something to be said about a guy who acts wild with his boys because he's looking like he's got something to prove - but in the best-case scenario, they are foolish without being problematic and will grow out of it. And if that's the case with the boy in this song, and he's as sweet and saved as he is in his hometown, that's the good stuff. This song rang of hope to me. And I didn't expect much of that in an EP I was coming into with thoughts of broken hearts and rebounds and moving on. I like Seen You In Your Hometown a lot.
The biggest quote from Lauren (through her team with the album release) is this one that really gets to the heart of things...
"Music is my lifeline. Music literally pulls me out of everything I ever go through [career, heartbreak, family, self-worth, love] and I feel really empowered with this music. I feel like this music shows my personal growth and my emotional growth. This EP of songs is all about loving myself through other people not loving me and not staying with me. It's about me being able to get back to that same confident girl I wrote about on Road Less Travelled and to hold on to that confidence. I get to celebrate that with this music, and I am so excited. I can't wait for the fans to hear it."
One of my favourite things in music is when an artist gets to pour their heart into an EP or album or single and then release it to the world and be happy they're doing it. It sounds like a simple thing, but it really is great and I'm happy for Lauren Alaina and Getting Over Him.
Check out the tracklist for Getting Over Him and hit play on the stream now to give it a listen. Enjoy!
Lauren Alaina, Getting Over Him EP tracklist