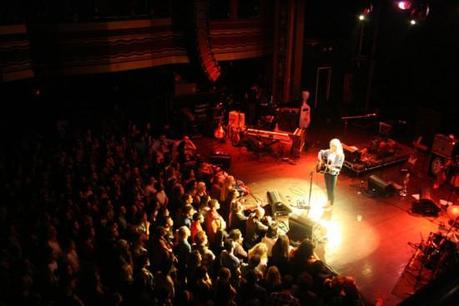 Laura Marling (@lauramarlinghq) and Alessi's Ark (@allaboardtheark) ended their superbly curated tour on Wednesday night at Webster Hall in NYC. Both acts are young women from England with sweet voices who can play a mean guitar and have natural gifts for entrancing an audience.
Alessi Laurent-Marke of Alessi's Ark is one of the most unassuming performers I've ever seen. Though she plays with a bassist on stage, he stands further towards the back, so it's her sole responsibility to win over the audience — and she does. For an opener, she did an excellent job of keeping the crowd rapt, primarily due to her musicality rather than her stage presence. Laurent-Marke is soft spoken and seems very shy (surprising given that she generally plays in front of hundreds of people), but her beautifully quiet songs and honeyed singing voice are very attention-grabbing. She sounds exactly like she does on her records (in a good way).
The best part of her set occurred when a member of the audience bellowed out a request for her cover of Lesley Gore's "Maybe I Know." Laurent-Marke reacted to this with a look that combined shock and terror. She said she normally doesn't perform that song (though it appears on her second album Time Travel, recently released in the US) and admitted that she was a bit scared to play it live. Though I'm normally against show goers barking out requests, I'll make an exception here since Alessi's Ark completely nailed the song. To end the set, Laurent-Marke adorably counted up the neck of her guitar for 8 frets, placed her capo and played "Robot," another song from Time Travel.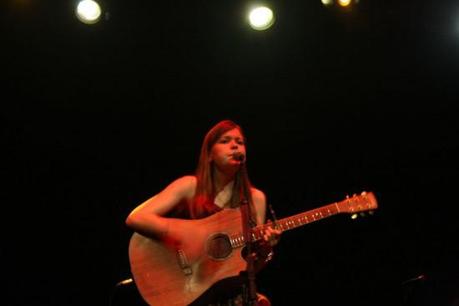 A bleached blond Laura Marling and her band strolled onto the stage to a very warm welcome of woohoo-ing from the now tightly packed crowd. Opening with "Rambling Man" from last year's I Speak Because I Can, Marling stood still with crossed legs and stared into the back of the room. Maintaining this position for the majority of the night, she sometimes looked as though she were staring daggers at someone she hated. Other times she smiled and audibly laughed while singing.
Laura Marling is a lazy singer, and I don't mean that in the way that suggests she phones-it-in and doesn't care. To her, singing comes so easily and naturally that she barely has to open her mouth to create powerful and haunting resonances. The first song she played from recently released A Creature I Don't Know was "I Was Just A Card", and it was evident how much her sound has branched out on this new album. With the addition of more instruments, including horns, Marling's new songs are a bit more soft rock than the countrified folk she is known for. In the end, though, her older songs were more pleasing.
The end of the night, however, restored my faith in her new album. A performance of her latest single "Sophia" proved that she has not forgotten that quiet songs are the reason so many people fell in love with her. Closing out the encore-less night (why don't more bands do this?) was another Creature song, "All My Rage". The bluegrass-inspired rhythms and styles fit Marling's voice perfectly, and the whole thing was ground-stomping and enjoyable. If this is where the Laura Marling train is headed, you can count me along for the ride.

View Photo Album