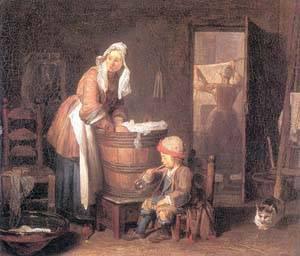 I
t's happened to me again: A product that I love and use and buy regularly is off the market. About every other week I buy Arm & Hammer laundry detergent. It's in a green semi-transparent bottle and it's called something environmental . . . Wait, let me go look at the bottle in my laundry room . . . Oh yeah, I can't because it's not in my cupboard
because they stopped making it.
I can't imagine why they would stop making this particular type of laundry soap. I was buying it all the time, whether it was on sale or not; whether the price went up or not, for years and years.
(The reason for that is I have a fear of switching laundry soaps. Almost every time I go to the doctor and describe symptoms of anything, the first question I get is, "Have you switched laundry soap?" This leads me to believe that switching laundry soap could cause everything from a simple rash to bleeding ulcers to infertility.)
So to avoid a health crisis in my home, I always used the same laundry soap. I stuck with it when every housewife in America jumped on the Tide-wagon (I can smell that on your clothes, you know), or when buying the Martha Stewart all natural laundry soap was the politically correct thing to do, or when I was trying really hard to save money and had to pass up sales on the off brands.
I tried to buy it three times at two different stores when I got the message that it wasn't just out of stock or on a special display. It was gone.
That's when I noticed that Arm & Hammer has a ridiculous number of flavors to their laundry soap. They've got Lavender + Linen, "For Sensitive Skin," 2x Concentrate with Highly Effective Clean Burst!, Skin Friendly with Fresh Scent, Power Gel, Oxi-Clean, Power Gel with Oxi-Clean and all combinations of all of the above. I guess they ran out of room on the shelves for mine.
The last time I was this upset about a discontinued item, I wrote a letter to Quaker and tucked it inside a consumer survey I was taking. The letter said, "PLEASE PLEASE PLEASE BRING BACK WHEAT CAKES. YOU'VE GOT ALL THESE DIFFERENT TYPES OF RICE CAKES BUT THEY ARE SPONGY AND THE WHEAT CAKES WERE CRUNCHIER. Let's face it, wheat cakes are an entirely different product. If you were going to remove one type, you should have ditched the low-salt cheese flavored ones. PLEASE PLEASE PLEASE BRING THEM BACK OR AT LEAST TELL ME WHERE I CAN BUY THEM ON THE BLACK MARKET."
Like then, I now am wishing I could go back in time and buy a huge amount of laundry soap, so that the people at Arm & Hammer would go, "Hmmm, this laundry soap in the green bottle with the tree on the label is quite a big seller! Weirdly only in the Sea Plum Plaza Publix store in Jupiter, Florida . . . but still. We better keep this baby around for a while!"
I won't go crazy with the capital letters if I write a letter to Arm & Hammer, but I might say something like this:
Dear Arm and/or Hammer,
I don't know what you were thinking in discontinuing the laundry soap in the green bottle that had some kind of environment word in the name, like Clean or Fresh or something that starts with an E. (You can look it up.) It was the best. For health reasons, I really don't want to have to switch to another of your sub-types of soap.
I was one of your best customers, so I think you're going to want to at least think about bringing it back. Because now I've got my eye on a bottle of Seventh Generation.
Sincerely,
Florida housewife who is by now either covered in skin sores or buried in dirty laundry.