Do You Need a Skip In Kent?
Do you need Kent Skip hire ? Our Transfer Station is located in Swanscombe, Dartford, Kent. From here we provide cheap and efficient skip hire covering Dartford, Maidstone, Gravesham, Bean,Chalk, Darenth, Stone, Greenhithe, Hawley, Higham, Hook Green, Meopham, Northfleet Green, Southfleet, Temple Hill, Wilmington and many more Kent locations.
Domestic and Commercial
RTS Waste have a long history of working with high profile clients from all business sectors as well as working with general households and local residents. We have worked with schools, hospitals, prisons, builders, demolition, fit out, factories, shops, offices and many more. No matter what your business involves  you can be sure of receiving a high quality services. Kent skips with a reliable and response service where you will know that RTS Waste recycle the waste themselves in Kent.
What is the cost of Kent Skips
To get a price for your skip then simply call our friendly team who can let you know a cost, and availability for delivery to suit you.
To arrange a delivery, an exchange or a collection simply: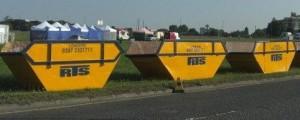 Capacity:
Cubic Yards 6 yd
3
8 yd
3
12 yd
3
Capacity: Metric m 4.6 m 3 6.1m3 9.2m3
Length: Metric m 3.40m 3.56m 3.96m
Length: Imperial ft 11'2" 11'8″ 13"
Width: Metric m 1.78m 1.78m 1.78m
Width: Imperial ft 5'10″ 5'10" 5'10"
Height: Metric m 1.07m 1.22m 1.68m
Height: Imperial ft 3'6″ 4' 5'6"
Service Areas for Kent Skips
The postcodes in both blue and yellow are covered from our Kent waste transfer station. They will have two rates though If you would like a price for your skip then please call our operations team on 020 7232 1711 alternatively email [email protected]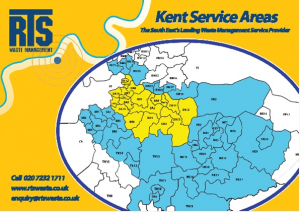 Access Needed to Deliver a skip
You will also need to think about where you will put the skip. A typical skip lorry is roughly 9ft wide, 22ft long and has a gross weight of around 17 tonnes with a full skip. You will need to bear this in mind if you require the skip placed in a confined or weak space (such as very narrow streets or weak bridges, behind houses etc.). You cannot locate a skip directly below low trees.
Otherwise, you may need to consider placing the skip in another location, such as on the public highway. If accessibility is a problem, then contact a member of the Transport team on 020 7232 1711 option 1, as we can still offer alternative waste disposal services apart from skip hire. We offer a Jumbo Bag at 1 cubic meter in size that can hold up to 200 kg, this is recommended for any waste type that is required to be collected separately for environmental legislation purposes; such as plasterboard. Call our waste experts today on 202 7232 1711 for further advise on how your waste should be collected and treated at the most competitive rates.
Permits
A permit is required if the skip is to be placed on a public highway. RTS Waste is able to provide permits when you place your order, for a small additional fee. Permits are normally available in 3-5 working days, in some cases sooner.
Who is Responsible for the Skips waste?
You are legally responsible for the contents of the skip you hire. You need to ensure that the waste disposed in the skip is suitable for general disposal and that the skip is not overloaded.
An overloaded skip is a hazard. The lorry may struggle to lift the skip, and your overfilled waste can be dangerous to other people as the skip is being lifted or transported. The contents of a skip should not exceed the height of the skip's sides.
If your skip is overloaded, the Kent skip lorry driver reserves the right to either remove the excess waste from the skip, or refuse to remove the skip altogether. The latter may incur a wasted journey charge.
Please note that you must never set fire to the waste in your skip.
Why Choose RTS Waste for Kent Skip Hire?
RTS operate a cost effective and efficient timely service for Commercial, Industrial and Construction Sites. Features:
A

real-time tracking

of all vehicles allows reliable scheduled collections.

Recycle Reports

Data for Site Waste Management Plan (SWMP) can be provided in collaboration with Construction Operators.
Services can be booked for

24 hours 7 days a week

, out of hour's charges may apply.
The RTS Transport department is available for booking from 08:00am to 17:00pm.
All Waste Materials collected is treated at our Waste Transfer Stations in London, Kent and Somerset. Reuse, Recycle and Recovery of waste is optimised through processing at our Material Recovery Faci
When booking a collection, please mention the address of the Skip's location and contact details at site. Please ensure that adequate access to the skip is available for the skip lorry to load the skip.
Sunday, Bank Holidays and Out Of Service collection service maybe limited. Please arrange by calling Transport on 020 7232 1711 option 1.
RTS Waste offers a hazardous Waste disposal service, to enquire please call our Hazardous Waste specialists on 020 7232 1711 or email [email protected]