Do you wanna become a successful Amazon Seller by launching a profitable Amazon business? If yes, then you are at right place as here we are going to list the top best Amazon Seller Tools. Using these Amazon Sellers Tools anyone can boost their sales, do keyword research, optimize their listing and more things in a row.
With this list of best Amazon Seller Tools you can have detailed insights of the tools and services that can help you in choosing the right tool for your Amazon FBA Business.
Actually, There are no shortcuts or tips to get the right tools from Amazon FBA. Having the best FBA tools and software in your arsenal can make the difference between making 6 to 7 figures of income.
Amazon FBA Seller mainly ignores the power of the best FBA tools because they want some quick results but here the results take a while to appear. But it's okay, you have less to worry about with this guide.
Actually, we have done a lot of testing, analyzing, comparing, reviewing and compiling the list of best Amazon FBA tools and software In 2019.
In this post, we have listed the Best Amazon Seller Tools In 2019. Let's get started here.
[Latest] Top 21 Amazon Seller Tools| BEST FBA Softwares 2019
Actually, we are going to compile the list of Best Amazon Seller Tools in various categories so that you can get the perfect tool for Amazon FBA Business. Just keep in mind that some tools have multi features and they can do more than task we have actually allocated them.
So make sure, you choose the right tools with the help of our list. Let's get started with the list here.
Amazon Seller Tools: The All-in-One Amazon FBA Management Tools 2019
Sellics is a German-based business analysis company that was founded in 2014. Starting as a simple keyword-based tracker that has been supplemented with functions over the years to become an all-in-one software solution for the Amazon Seller In the market.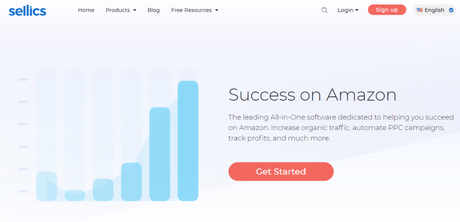 Sellics is one of the most popular platforms out there as it has customers like Bosch, KW-Commerce, Chal-Tec, Private Label Journey, L'Oreal and many more as well.
Sellics wants to stand out of the competition simply by providing Amazon sellers with all the tools they need in one place. Basically, Sellics is a one-stop shop for Amazon's marketing specialist, who combines three to five different analytics tools in one package for all Amazon FBA Needs. You can this tool to use it to optimizing rankings, manage notes, monitor competitors, track multiple performance counters and more.
Sellics offers two separate software platforms: an Amazon Seller Edition and an Amazon Vendor Edition. You can get started with any one of them according to your needs and requirements.
Pricing: Starts At $47/Month (Annual Plan)
Basically, Helium 10 is a set of powerful software tools, most of which contain dozens of tools that help Amazon's Sellers out there to find keyword rankings easily, detect trends, spy on competitors and refine the list completely. It helps you to generate more sales and sales.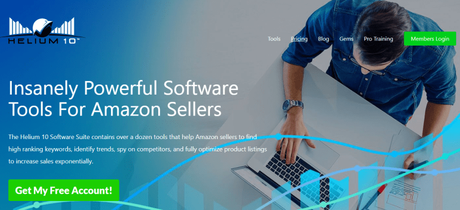 Anyone can use this tool to easily and discover product ideas and penetrate deeper into the market by researching and validating these ideas to obtain better information. Basically, there are more than ten tools tailored to Amazon Seller that can help them make big profits without investing extra money or money.
In the Helium 10 Toolsuite you can easily find several tools such as Black Box, X-Ray, Magnet, and more. We have already reviewed Helium 10 in BloggersIdeas and we have explained each tool in detail.
You can read our review of Helim 10 here:
Helium 10 saves you time and money. With this tool, you can generate a great return on your Amazon FBA business.
Undoubtedly, AmaSuite is one of the best and reliable tools in the market that can help your Amazon FBA Business to grow as much as possible. This tool can really help you to increase your sales and conversions as well.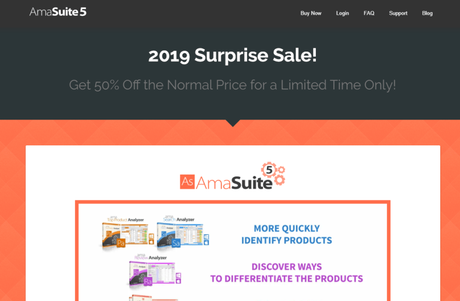 AmaSuite was founded primarily by David Guindon and Chris Guthrie. Among them, one of them is a first level developer who also has a deep knowledge of software development and other is having deep knowledge affiliate marketing.
Once you sign up for AmaSuite, you will receive credentials that will allow you to easily access AmaSuite. Your purchase will give you access to the following elements, and I think these tools are really working. We also did a detailed review of AmaSuite (Blog + Video) that you can find here: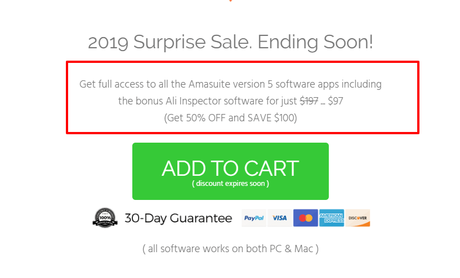 FeedbackWhiz generally offers more than just the power to manage your comments and criticisms. That's why we put it in the All-In-One FBA Solution.
FeedbackWhiz includes orders, customer data, analysis, reviews, email automation and comments. Synchronize everything in a clear, orderly and easy-to-use platform. If you spend less time clicking on the tabs and need more time to manage your business, this is the ideal system.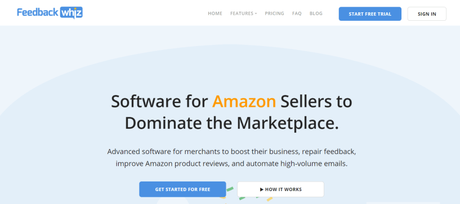 Each feature on the platform is exceptionally well executed. We especially like the work and email management tool, which allows you to quickly and easily respond to customer problems.
The personalization options of your emails are excellent. as well. You can prepare e-mail sequences adapted to your products and the behavior of the buyer. It is difficult to choose emails, but FeedbackWhiz has many custom variables. These include emojis, gifs, attachments, custom HTML and more.
Also worth mentioning are the data analysis tools. Whether you are looking at past trends to change your strategy and increase your profits, or simply track your performance to provide the best possible service, FeedbackWhiz makes it a very pleasant experience.
Pricing: $15/Month
Amazon Seller Tools: The Best Keyword Research And Tracking Tools
AMZ Tracker is a great tool for Amazon FBA sellers, which increases the seller's ranking through different strategies. It is a suitable tool to follow the progress of the seller.

AMZ Tracker is an excellent tool for salespeople that can help them increase sales and keep track of them in one place. It helps you track the products and see where your competitor is. You can use fixed keywords to define your products. It depends on the subscription you choose.
AMZ Tracker tracks the product compared to its competitors. The product tracking tool captures the best-selling products in its category and gives you an idea of each product.
Track and improve sales by raising profit margins to the highest possible level. Sellers simply have to follow the products they want to follow. It is based on the best selling classifications, sales estimates, sales estimates and many other things to get a good profit margin.
Seller Labs mainly comes with a plethora of tools and applications that have driven the growth of the product campaign, data analysis, suggestions and more.
Scope is a tool provided by Seller Labs that proposes and identifies new keywords and products to increase market activity and helped you in finding the right kind of customers. This tool also comes with many additional features in your Amazon Keyword research process. It also shows the highest rank for a particular product on Amazon. This is basically an SEO tool that optimizes the search and gives you an idea of its commercial potential for a new product.
Scope is a versatile tool that allows you to optimize the product, track the search or rate the performance of a particular product or keyword with ease. You can use this tool in order to save your keywords and export them to a specific file format for further analysis.
Scope's software application pricing plans are also very lucrative and offer a reimbursement system with a 7-day usage period.
Pricing Plans: $32.50/Month
AmazVol is a provider of keyword databases. Actually, it is an Amazon keyword research tool that helps Amazon marketers discover more profitable keywords in the Amazon market in order to get the right kind of customer for their products.

This company was founded back in 2017. Basically, the main objective is to simplify the sale of Amazon sellers and the process of developing the strategy of the keyword research. With this tool, you can easily implement the strategy of keyword research while improving sales and listen to changes and innovations in the Amazon market.
Generally, these tools has a database of keywords that buyers often use in Amazon to search for this or that product. In order to stay up-to-date in the AmazVol market, use the latest algorithms that mainly analyze customer search to get the most accurate search results.
This tool is designed to simply help you in understanding what customers are currently looking for on Amazon. And it is also one of the unique keyword research platforms available out there in the market. This tool will surely help you get to the top of the search engine and highlight the result. At the same time, you can use market research to analyze the latest Amazon trends.
KeyWorx is another reliable and best keyword tracking tools in the market that impressed me from the beginning. You know that it is important to measure the performance of your rankings and the impact on your strategy and your results too. Using this tool you can easily track your keywords in an extraordinary and effortless way.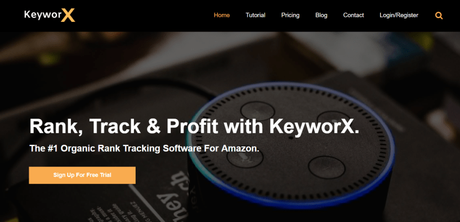 KeyWorx has actually two trackers in one: a keyword crawler that reverses the ranking of the engineers to tell you what is right for you, and is an effective tool for classifying Amazon products and on the other hand Amazon BSR Tool Allows you Track your performance over time.
KeyWorx impresses with the balance between affordability and functionality. It offers an excellent service backed by practical and tutorials from an experienced team at a fair and reasonable cost.
AMZShark offers a solid classification tracking tool as part of the FBA product range. While your tracking service does not bring many alarms, it does exactly what you expect from it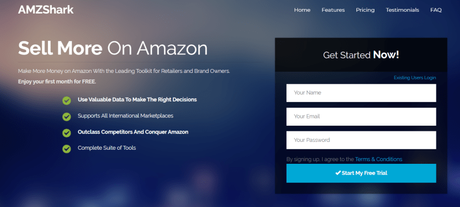 Actually, it has an optimized user interface, easy-to-follow tutorials, quick support for the device and intuitive functions: AMZShark has it all. And trust me this tool will never let you down.
The good news is that AMZShark is compatible with almost all Amazon markets, a very useful feature if you want to sell on the Amazon Global platform. You can use this platform to track any marketplace keywords out there like US, UK, India and more.
The only cons that I have noticed about this tool is that it has very expensive pricing plans that not affordable. But they also offer 1 Month Free Trial that you can use try its features.
Pricing Plans: $299/Month
Amazon Seller Tools: Best Profit Tracking & Marketing Tools
SellerLegend is an Amazon Analytics toolkit that helps you get the most out of your Amazon business with quick reports. With this tool, you can get various reports on several performance counters available in SellerCentral easily.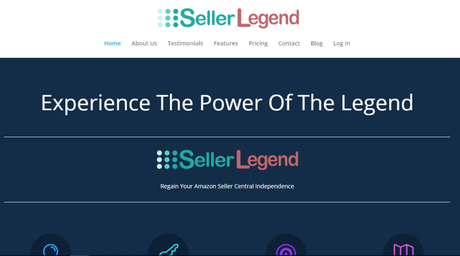 The analytical skills of these tools are really narrow and deep. The Law of the SellerLegend focuses mainly on business metrics. However, it is very important to have a clear overview of the activities of the Amazon seller.
SellerLegend has intelligent, innovative and interactive features that provide an intuitive Dashboard, a market, and a coherent customer panel. The control fields are complemented with widgets that the user can select. These can be dragged and dropped anywhere in the Dashboard.
The various dashboards details include sales history, relative market performance, account reviews, promotions, products, scheduling availability, summary checklist, subsequent replenishments, and segmentation. The customer, the best sellers, the loyal customers and the accounts to track all the relevant information. Now you can get all the detailed insights into your profits and reports.
Pricing Plans: $49.99/month
Ignite is one of the most advanced campaign management tools or the ads management tools from Seller Labs for products sponsored by Amazon. It is designed with a user interface to provide intelligent suggestions and keywords for the advertising campaign, increase the winning numbers and decrease the percentages losses.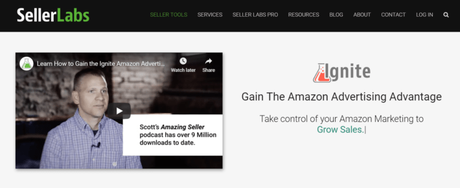 Basically, it offers suggestions based on keyword data and optimizes recommendations easily. It will also open a detailed historical chart with a brief history of the work. It has other features that make it one of the leading ad management tools in the current market and you can easily use this tool for the marketing of your Amazon Products as well.
This tool mainly comes with many features that are really outstanding and this tool can really help you in skyrocketing your sales and conversions as well.
AMZPing is just more than a profit tracking tool. This tool mainly does the tracking so well that you can get all the tracking details at your fingertips.
The advanced dashboard is a pleasure to open and offers an excellent view of the benefits and sales that you have for your Amazon Seller Account. And in addition to that, you can drill down into the Dashboard widgets to determine exactly what you get from Amazon.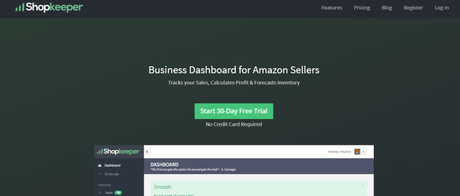 Sales trends are also included compared to the current performance of your Amazon account. This is a useful tool if you really want to change your standards and sales as well. AMZPing also provides you with useful information right about your best selling products and dynamic profit margins. There is no denying that most FBA tools and Amazon software have little interest in UX. Fortunately, AMZPing is different from other Amazon Seller Tools out there in the market.
Pricing Plan: $20/Month
Amazon Seller Tools: The Best Listing Management Tools
If you want to save your listing to hacking immediately, you need this Listing Provider. With these tools you're going to receive notifications in real time 24 hours a day, 7 days a week, by email, SMS or both.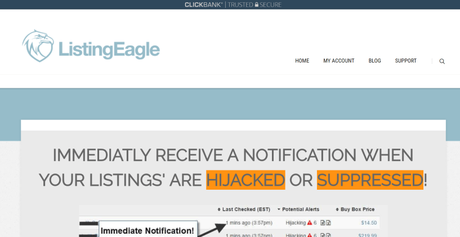 In addition, this listing software also offers automatically generated letters that are pre-populated with relevant information. So you can immediately issue corresponding notices and cancellation notifications. All the letters are customizable, which allows you to add any element to excellent models.
As a member of Listing Eagle, you will receive a notification by email in real time when any ad is removed or a hijacker activity is found in your Amazon ads.
This tool ListingEagle generally creates custom messages that you can send to the hijackers right with the touch of a button. Developing a personalized strategy and script to deal with the hijackers can be confusing and take time!
Pricing Plans: $9.97/Month
AMZAlert mainly offers much more than a simple alarm hijacking tool, it would certainly be called a complete security package for all of the Amazon Seller out there in the market. The amount of security mainly depends on the level of the package you are registering with or the plan you're getting started with. But the basic "Start-Up" package generally covers the essentials.
Alert messages are sent right in every 15 minutes, informing you about changes to the product title, product deletions/updates, order redirects and changes in the BSR at the boot package level and that's quite impressive about this tool.
Right when you go through the complete packages, you'll see alerts about changes to the image, product categories and titles, too many revision management tools, and changes to keywords and titles as well. The lists are displayed easily.
Amazon Seller Tools: The Amazon Product Launch / Feedback Service Tools
Viral Launch mainly focuses on product launches, Amazon list optimization, product photography, package and label design, and email message playbacks as well. And trust me this tool is much more than Product Launch Tool as it has many features and specifications that you can use to make your Amazon FBA business more profitable and rewarding.
Actually, this tool is most probably best known for its product launches, photos, and list optimization services. The best part about th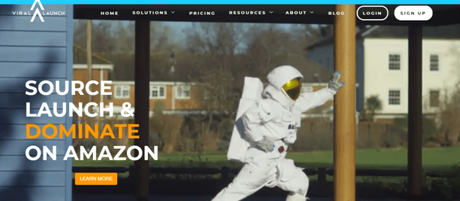 is tool is that they have actually an incredible collection of Amazon data that you can use easily. This database is based on its product search tool, market research, and keyword tool. Because it features this tool really stand apart from the competition.
Pricing Plans: $49.17/Month
Here, AMZScout, is one of the best and most reliable product hunt tools out there for Amazon sellers, which is also available as a web application with a program extension for chrome.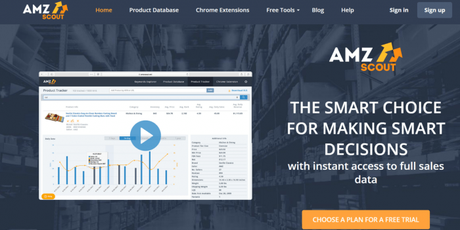 In general, both tools are easy and easy to use and operate for beginners. It also helps you in finding the most interesting and profitable products directly at Amazon Marketplace. Here you can also see everything on the page and more.
AMZScout also uses the latest innovation and logic to understand the sales volume of all items in an instant. It also extracts information from Amazon's actual sales so that the ratings easily determine the volume of business that generally matches the items. With this tool, you can easily find the subcategories as well. . If the item has no rank in the main classification, it is saved and compared to the subcategory.
Pricing Plans: $44.99/Month
JungleScout is one of the reliable and best product search tools that allows you to select a profitable niche on Amazon and find Amazon products that allow higher conversion rates. JungleScout makes it easy to access the Amazon sales database through the Google Chrome extension or the web application too.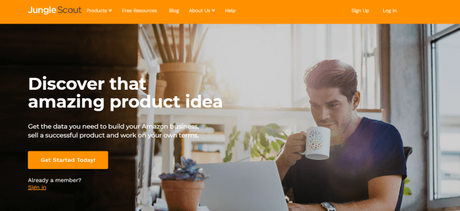 JungleScout also offers the best resources for the search of products based on data. JungleScout minimizes the risk of default and maximizes profits for your Amazon FBA Business.
Basically, the web application mainly gives you more information about what is happening behind the scenes in the Amazon categories and subcategories. However, the Chrome extension gives you a quick overview of the different products and categories if you usually browse the Amazon website of any marketplace.
The web application is more expensive because it provides more information and features than the Chrome extension. However, it also offers many analyzes, for example. Sales, prices and possible market interruptions. Just choose any of the mediums according to your needs and requirements.
Pricing Plans: $29/Month
Feedback Genius is an automated tool that provides Amazon customers with better communication services between the seller and the buyer. The benefits and key features of this great tool include the product review, comments, monitoring and more. I have used this tool earlier and it is quite good and effective.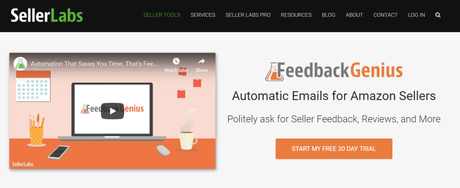 This tool is beneficial for the client and the seller. You will receive seller notifications and you can also respond to comments on Amazon as well. This tool is very useful because you will receive a notification when you receive a review or comment right on your Amazon Products.
Feedback Genius is one of the most powerful tools that have helped me a lot also helped in making my clients happier. If you are trying to create your own brand, this tool will definitely help you. Many people use this tool because it offers many excellent features. Just for these characteristics, this tool is more popular and effective.
Pricing Plans: $20/Month
FeedbackFive seems to have the same job as other comment tracking tools, but it has a secret weapon that can really help you in the long run.
Actually, this tool very established tool: Actually this tool has been in the market for 10 years and is based on a remarkable understanding, support and market experience. As a result, they have generated over more than million positive comments; You do not need anything else to boast of being one of the best Amazon comment programs as here as an FBA salesman, you know what matters the most.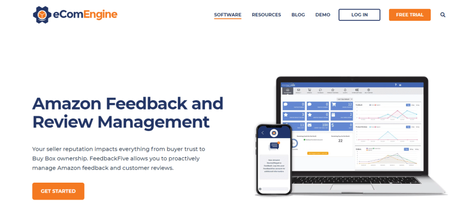 Monitoring compared to many competitors is impressive. At a glance, the panels simply allow you to analyze your comments and data so you can maintain control of your ads in an extraordinary way.
FeedbackFive has created an incredibly impressive feature that allows sellers to connect with reviews in an extraordinary way.. As you probably already know, Amazon does not provide this information for the sellers. For FeedBack Five there is actually algorithms behind FeedbackFive that will really help you pleasing your customers. And actually, this one is a great way to solve the feedback problems between ads, currently, no other software can do this for the Amazon Sellers out there.
Pricing Plans: $9.99/Month
Amazon Seller Tools: The Best Amazon Conversion Rate Optimization Tools
Splitly is one of the reliable tools that stands out essentially in the congested area of all FBA tools. It is characterized by the fact that artificial intelligence is used to perform division tests for you.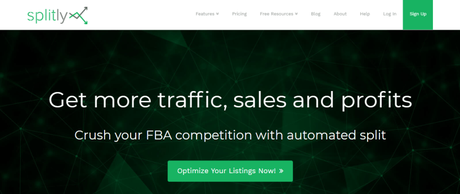 So, instead of asking you to create the traditional A and B versions of a page, you can run both split copies at the same time to see which works best using this too easily. Here this tool generally performs a split rotation of images, titles, and descriptions while continuously recording the customer behavior associated with each variation easily.
Splitly is a signal for easy purchases and well-planned expenses. Now you can easily pack other options right at a reasonable price, and the vouchers would be an additional benefit for your purchases on the Internet since you could save large sums of money.
In addition to that Splitly also performs other tasks for you. For example, you are still investigating object estimation as your competitors and help you to change the value shown by free-market activities. This will help your FBA transactions and take advantage of your listing by using an automated weighing device, strong point and profit point device.
Pricing Plan: $42.30/Month
Conclusion: [Latest] Top 21 Amazon Seller Tools| BEST FBA Softwares 2019
As of now, you have got the list of Best Amazon Seller Tools in 2019. You can go with any of the tools as per your requirements and your budget as well. We tried our best to compile the list of reliable and affordable tools available out there in the market for your Amazon FBA Business.
If you're actually looking for an all-in-one and reliable solution for your Amazon Business then you should go with tools like Helium 10 and AMASuite 5. As these solutions come with a set of powerful tools that can really help you in scaling your Amazon FBA business easily.
We hope this list of Best Amazon Seller Tools helps you in finding the best tools for your Amazon FBA Business. Feel free to share which tools do you like the most in the list of this Best Amazon Seller Tools.
If you liked the post, then feel free to share it on the trending social media channels like Facebook, Twitter, and LinkedIn.