In honor of Valentine's Day, Zap2it is celebrating some of the greatest loves on television. They want to know who TV's Most Crushworthy are, starting with the Most Crushworthy Supernatural Creatures.
The winners of the various categories will be announced later this month (and then they'll face off against each other to find out who the Ultimate TV Crush is).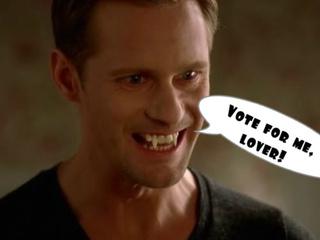 Eric Northman is the only guy to be nominated in this poll from True Blood! Hehehe. You don't know how happy this makes me, because there's SO many other supernatural male characters on True Blood! I guess this means they think both Bill and Alcide SUCK?! Hahahahaha…
Jessica Hamby is the only girl to be nominated in the poll from True Blood. Wait a minute…why isn't Pam on there? WTF?
Anyways, you can cast your votes here: TV's Most Crushworthy Supernatural Creatures
At the time of this post; Eric Northman had 2.45% of the votes, and Jessica Hamby had 6.08%, in their respective polls.
We have an uphill battle to climb, because Eric is up against both Damon Salvatore (The Vampire Diaries) and Castiel (Supernatural), who are in a neck-in-neck race for 1st.
Thanks Eric & Sookie Lovers!
Advertisement