Yes it's time for another look at the books I'll be reading over the following few weeks, and why I chose what I did. I'm continuing my system of going through the fiction section in alphabetical order, although I'm trying to mix up the authors so I keep some variety. The last batch of books was pretty successful, and I still have 150 pages of the Maugham biography to go, but let's take at what I picked up this time.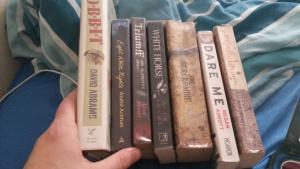 So first we have F*O*B*B*I*T by David Abrams. It seems to have a heavy M*A*S*H influence, and is based on the authors own experiences of serving in Iraq. It's about the soldiers that worked at a Forward Operating Base, where these people basically have office jobs in war. I like war films, although I haven't read much war fiction but it's something different and I like the theme of showing the ridiculousness of war.
Next up we have Eight White Nights by André Aciman. I got this because it's set at Christmas, which is my favorite time of year, and since we're getting into autumn I thought it would be a good way to get me in the mood for the months ahead. It's a romance story about people who meet, so hopefully this will be a good one to read with a hot chocolate.
Triumff: Her Majesty's Hero by Mr. Dan Abnett has a fantastic cover and the blurb on the back has a good sense of humor to it. It seems like it's going to be over the top and I quite like dashing  sword fighting. I looked under the cover and the author has worked on some big sci-fi properties and some comics too, so I thought I'd give it a shot.
White Horse by Alex Adams is a post-apocalyptic book. I quite like that setting but it can get repetitive and generic, so I'm hoping this one has something different about it.
Best Served Cold by Joe Abercrombie has an awesome cover and is a story about revenge. It's the longest book I have in this batch of books and it seems to have a lot going on, so I'm looking forward to this one.
Dare Me is another book by Megan Abbott. I enjoyed The End of Everything and this one seems to be in the same general theme. There are two girls who end up finding out that they are keeping secrets from one another. So I'm interested to see how different this is going to be from the previous book I read.
Finally, we have Rivers of London by Ben Aaronovitch, which is about a constable who, in the process of investigating a case, was led to the last wizard in England. I like stories that show fantastical elements bleeding into the 'real' world so I'm hoping for some good, imaginative storytelling.