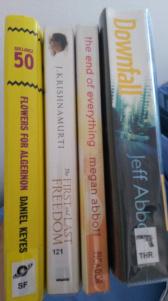 I decided to start catching up on reading and aside from a few books that caught my eye, I started a new system. I'm starting from the beginning of the alphabet and am going to systematically read every book that catches my eye. This time I have Flowers for Algernon, a classic sci-fi story about a man with an IQ of 68 who undergoes a treatment to make him smarter after witnessing the effects of the treatment on a mouse, but of course there are going to be unknown side effects. The First and Last Freedom was in the philosophy section as I haven't indulged that side of me for a while, and it's about the search for truth, so it should be interesting. The End of Everything is about two girls who share everything, until one of them goes missing. I'm hoping for some dark emotions to be explored here. And there's Downfall, which is a thriller about a detective who stumbles into a vast conspiracy. Hopefully it'll be a fast-paced book with a few twists and turns.
Feel like I got some good variety there but wait! There's another one that I'm super excited about!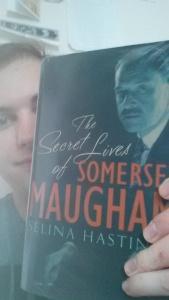 Yes! I found the biography of W. Somerset Maugham, my favorite writer. I did actually try to buy this from a seller on Amazon at the beginning of the year but the order got cancelled as it was out of stock, so I'm glad that I found it at the library!
Excited to read this batch, and watch out the upcoming reviews I'll do over the next month or so!