Last week I participated in a 1-night pop-up art show in Portland:
"Garden Party: Paintings by Cedar Lee and Ben Will!" This exhibit coincided with Portland's First Friday Art Walk.
We hung our art at Stage 13 in the Pearl District. Stage 13 is a film studio with high ceilings. A gigantic green screen fills two walls of the cavernous room. We covered the green screen with huge black velvet drapes and hung our art in front of them. I am used to hanging my art on a white or light-colored backdrop, but when I saw the finished result, I thought the effect of the artwork against the black was very dramatic!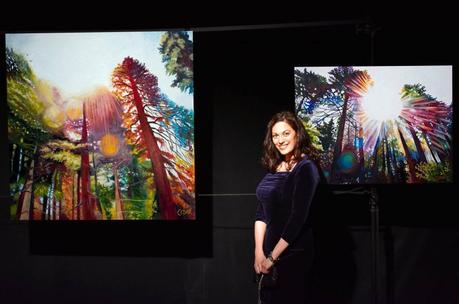 Artist Cedar Lee at 2019 Portland exhibit. Paintings: Magenta Morning & Sunshine Wishes
I displayed eleven of my recent original paintings.
Here's me with two of my paintings: Magenta Morning. 48″ x 48″ (left) and Sunshine Wishes. 30″ x 40″ (right.)
Alongside the artwork on display by Ben and me, our guests enjoyed a great show by local musicians Southern North and Lee Comet.
It was a fun evening with new friends!