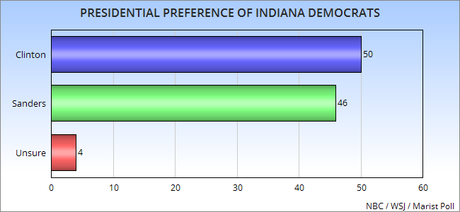 One final poll has been released on the presidential race among Democrats in Indiana. Those Democrats are voting today to see how the candidates will divide the 83 delegates they have up for grabs.
The NBC News / Wall Street Journal / Marist Poll was done between April 26th and 28th of a random sample of 449 Indiana Democratic voters, and has a margin of error of 4.6 points.
Right now, it looks like Clinton will edge out a win in Indiana. The best Sanders can reasonably hope for is to split the delegates in Indiana with Clinton -- and that's not nearly good enough to get him back on track. It'll just get Clinton a bit closer to the delegate total she needs to clinch the nomination.