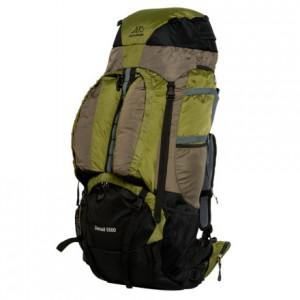 I packed up the 90L large Alpine 5500 bag for the last time.  It sounds so grave and serious.  The bag has lived up to its usefulness, and I am sad to say, its life is nearly over.
This backpack has been the most important piece of gear I have had.  I hadn't bought one before and my selection process was made easy before coming to Australia because I used some Reward points off of a credit card and they didn't have a large selection.  I did a light research, saw that the bag has 'some' favorable reviews and had it sent to my door.  
It ripped on the flight from Orlando to Brisbane, Australia. It wasn't a severe rip, but it was a big enough tear to make me ponder if the bag would be able to last the rest of the travels in Australia.  It barely did.  Since then I have had trouble with the padding on the back coming un-done, the straps staying even when hoisted on my back (which can be a pain when there is a load over 60 lbs.) and then later one of the straps just simply broke.  I resolved this particular crisis by using one of the knots I learned while sailing to tie it back together.  So yes, the bag is dying.
Packing has become an art form.  I think everyone who has traveled anywhere on a plane knows about the art that goes with packing.  Trust me when I say that it can get a bit more severe when you are living out of the bag or suitcase.  Little must-know tips include rolling up your clothes (thanks Jen) and using every single bit of space including the straps on the outside of the bag.  Airlines only allow 20 to 23 kg. in weight to go onto the plane.  This was particularly difficult to abide when my bag weighed 29 kg on a flight that allowed 20 kg.  That is about 19 lbs. overweight.  Now that was a fun day.  I packed and repacked again and again.  I left a jacket in the airport and made my carry-on backpack look like someone stuffed a football into a golf-ball.  I think I had on three layers of clothing as well.  Needless to say I was allowed on the plane.  
I'm going to visit my family and friends in Florida.  I leave in three mornings from now.  Glenda is coincidentally driving from Torquay to Melbourne (a three hour drive) on the same day that I arranged to go to Melbourne before flying on Monday.  We will leave in a couple of hours.  I packed my bag for the last time last night.  It was a joyous feeling to shed some of the things that I am accustomed to having to pack.  A pair of Birkinstocks that I picked up at one of the hostels when my sandles finally gave out on me.  A pair of work shorts that I had 'made' (yes, I had a pair of jorts!), two flanel work shorts, a pair of rain pants, a rain jacket and two other shirts that I picked up from op-shops along the way.  Your likely to surprise yourself in the things that you pick up that fall into the Necessity category as you move about.  I learned this when I worked at Alkoomi Wines.  We were in the middle of no where and the nearest "town" had only a pub, a post-office, and a petrol station.  I didn't have cold weather rain gear and for days I paid the price of having to wear garbage bags over wool clothing cutting vines in cold rain.  Those were nine hour work days – what a hoot!