"7 Tubes Are All You Need"
A 2-day workshop
Jan 18/19
Cochrane, AB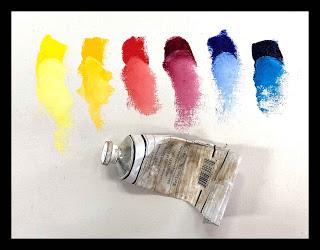 Imagine making every color that you need with just 7 tubes of paint.Now imagine knowing exactly which color to mix to create the effect that you want, from glowing passages to receding planes. 
Simplifying and understanding color are the subject of my 2 day workshop in Cochrane, AB next weekend, January 18 and 19, and there are a couple of last minute spots available. 
Hosted by the
Cochrane Art Club
, the workshop will be held at
Beaupre Hall
and run from 9:30 - 4:30 on both days. 
If you've always felt uncertain about color and find yourself buying paint with names like "flesh tone" or "sky blue", this workshop is for you. 
For information and registration, contact
Rose
at the Cochrane Art Club. 
I hope to see you there!