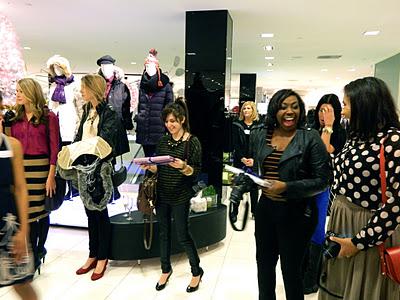 (The scene at Bloomingdales Blogger's Night Out Boston)
Well, it's Sunday which means there are only 8 days left until Christmas. Panicking yet?
On Thursday,
Bloomingdales
invited their favorite Boston bloggers to a mixer and to show off all of the amazing gifts still available. There were so many great items that I decided to share them all with you! 
Consider this a list minute, luxe, gift guide for the most fashionable people in your life! Not near a Bloomingdales? That's okay!
You can still shop online
and get guaranteed Christmas delivery through Wednesday at 11:59 PM (for standard delivery) and Thursday by 5 PM (for express delivery). So, go ahead and look around- you still have plenty of time!
As always Rebecca Minkoff accessories top my shopping list. Her bags are classic shapes in beautiful materials and refreshingly logo free.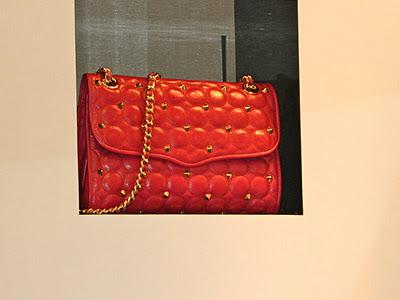 When I spotted this sumptuous Rebecca Minkoff ($395) I knew I had to add it to my own wish list! The shape and chain strap is incredibly ladylike while the pop of red and studs add personality making it a perfect gift for your little sister OR your favorite aunt!
Have a beauty addict friend? There is really only one thing that she wants this year-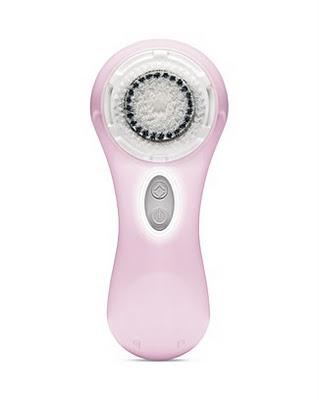 ...the Clarisonic Mia 2 ($142)! The Mia 2 takes everything that's great about the original Mia and adds on two cleansing speeds, a sensitive brush head, and timer!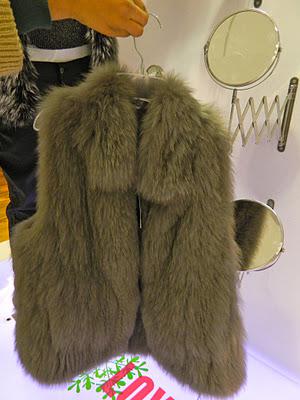 You might have noticed that, even though we don't have any snow, it is FREEZING here in Boston. I can't help but be drawn to fur- I feel like I'm being defensive but I thought this vest might be a controversial choice. Does it help that I grabbed it off the clearance rack? Well, if you don't have any qualms about fur and there is a glamorous lady in your life who deserves a luxe Christmas present then this Theory vest is it! Check out this similar style from Dolce Vita ($520) or go the faux route with this great vest from Aqua ($148)!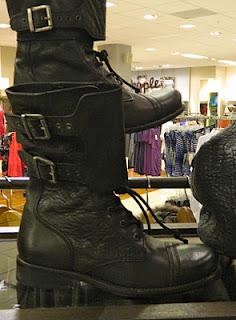 The Chestnut Hill Bloomingdales has a great
All Saints Spitalfield's
boutique up on the third floor that completely evokes the mood of the British label. For your bad ass friends (or just the girl who likes to pair tough accessories with florals) I loved their Damisi motorcycle boots ($295)! I was also immediately drawn to this glamorous coat.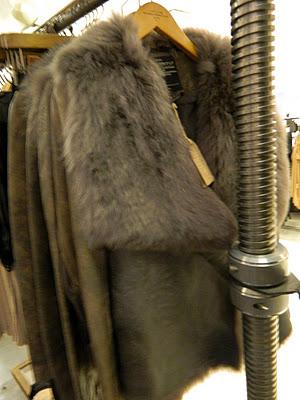 I know- fur again! But can't you imagine your jet setting friend bashing around London in it? The weird thing is that while they have the in store boutique Bloomingdales.Com apparently doesn't carry All Saints. But you can still shop
All Saints.Com
! 
I always think sexy boyfriends deserve decadent but practical gifts so for the man in your life I'd go with this amazing Burberry watch ($295).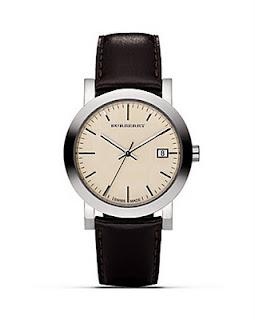 I love the leather strap and classic watch face. Its simple but masculine and can work as a present for your boyfriend or father. That doesn't happen often...unless you're creepy. 
If you want your boyfriend to smell better may I suggest my favorite cologne?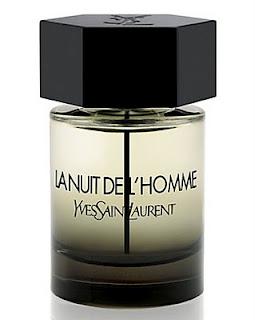 YSL's La Nuit Del'Homme ($75) makes me go weak at the knees every time I smell it and I usually hate all cologne on men!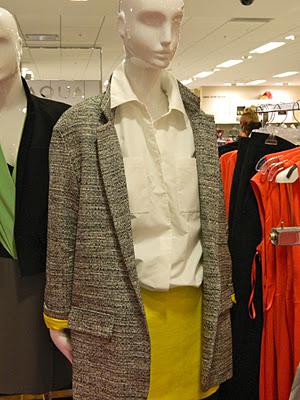 At some point I must have stopped shopping for others and started looking for myself. But its hard to be in such a beautiful store and only shopping for other people! The Diane von Furstenberg section was right in the middle of our party so I can't really be held responsible! First on my list is this darling tweed jacket with lemon lining ($585). I noticed that it isn't really heavy enough for a New England winter but layered over chunky knits with an infinity scarf or two it would be great on a mild day. I suppose its meant to be more of a menswear inspired, over sized blazer but I can't really do boxy shoulders.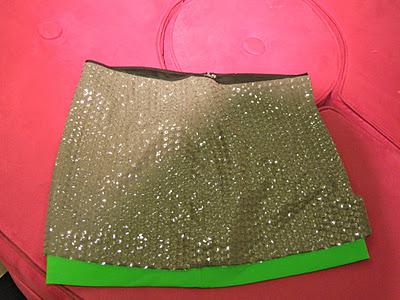 The other piece I was drooling over? This DVF embellished mini skirt ($285)!  As far as I'm concerned you can never go wrong with neon and sparkles! Obviously, this is a great party piece but I'd also pair it with a neutral top and wedged boots or oxfords for day. 
I have no idea what I'll be doing for New Years Eve yet but whatever it is I want to be doing it in this stunning Parker dress ($308)! I literally stopped dead in my tracks when I came across the mannequin. Sure, it's a little cheesy but its also gorgeous and really fun just like NYE!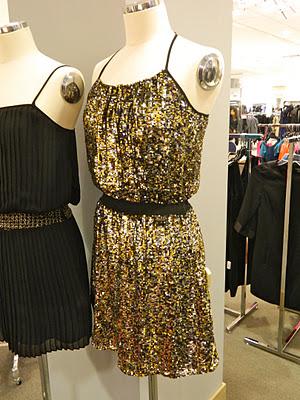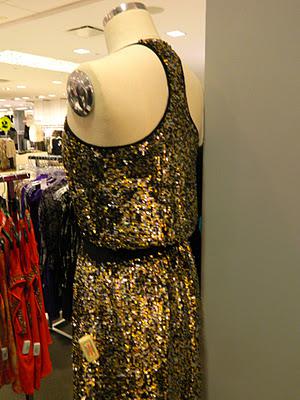 I didn't want to leave it behind!
I hope my Bloomingdales gift guide has provided a lot of ideas and inspiration for you last minute shoppers! Don't get discouraged- the perfect gift is still out there you just need to know where to look! And don't forget yourself! That way you're guaranteed to like at least one present under the tree!
(Thanks to Bloomingdales Chestnut Hill, and Bloomingdales.Com!)