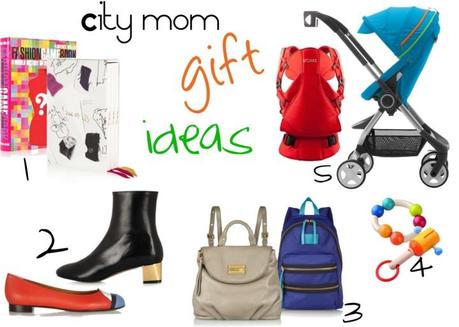 Just in case you are looking for that one more thing for your someone special, here is a quick guide for a city mom ( or any mom for that matter ) :
5. a stylish and easy gliding stroller 
 that will allow her little one to nap on the go that will fold with one hand, because that will be her public transport best friend for years to come. ( note the special limited time price! when if not now?!)
and a perfect baby carrier  
 for those old city places that do not have a stroller access or simply for the times when the little one wants to be held. Stokke MyCarrier is suitable from birth and the variety of positions make is a universally simply awesome carrier ( read more here why i personally love it best)
4. throw in some baby toys 
 into the stroller or clip on to the carrier and the most important person on the planet will be happiest of all. my preference is with haba here because of environmentally friendly materials, extensive testing, and simply said : absolute explosion of colors! my little guy LOVES them ( and santa may have cleared all the racks in the store, because, you know, santa's sanity is very important too)
3. hands free stylish bag or sporty stylish backpack
 that goes with the theme of her favorite stroller.
need I say more?
2. a pair of stylish but walkable boots and fun but extremely comfortable flats.
when you put on 7+ miles a day just getting to and from ( and can't forget those mandatory morning and evening walks to the park) , taking care of one's feet is a top priority. but style does not have to suffer!
1. a fun book and a unique notebook.
Let's be honest - she hardly ever has time to herself, so for those moments, let her mind simply rest on something interesting and not baby related ( trust me. she has a NYC library size supply of baby books already. and she most likely read them all at least twice too) and treat her to a nice set of notebooks that she most likely won't buy for herself, because that mommy brain effect does exist , you know...
Last minute gifts are always necessary, and we've got you covered! Check in for complete list of his, hers, little ones' and our favorite stocking stuffers tomorrow!