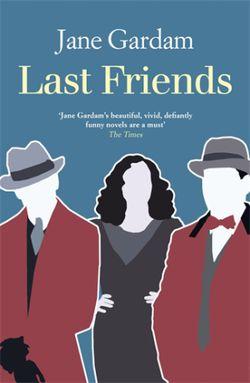 Just a few weeks ago I discovered Jane Gardham, and wrote a rave review of Old Filth. That novel had been a birthday present, and with it came the sequel, The Man in the Wooden Hat. I started on that straight away, but I haven't reviewed it here, partly because, though I did enjoy it, I wasn't as bowled over as I had been by Old Filth. Then I found that Audible, with whom I have an account, was offering the third novel in the trilogy, Last Friends, so I snapped it up. And what a great novel it is.
Being a trilogy, of course you expect to meet the same characters and so indeed you do here, but in fact the three main protagonists are already dead. They are Old Filth himself (Sir Edward Feathers QC), his wife Betty, and his great enemy, and Betty's great love, Sir Terence Veneering QC. Veneering has been a bit of a mystery in the first two novels, but here we get to learn of his beginnings in life and, as I've come to expect from Gardham, they are wonderfully bizarre. Born in a north-eastern fishing town, he was the son of a female coal-merchant and a crippled Russian acrobat who was almost certainly a spy.
Veneering's story is a fascinating one, which I am not going to tell you here, but it's only a part of this brilliant book. As the novel progresses we find ourselves increasingly involved in the life of Dulcie, the aged widow of the celebrated judge known as Pastry Willy. Living alone, out of sympathy with her lesbian daughter and puzzled by her precocious grandson, she is gradually taken out of her shell by her new neighbours, Henry and Anna, who have bought Veneering's house. Their adventurous trip to the north of England in search of Sir Fred Fiscal Smith QC is wonderfully funny and touching, and Dulcie's life, however much there may be left of it, is going to be totally transformed by the end of it.
You might think a novel about ancient people, some of whom are already dead, might be depressing, But my goodness how wrong you would be. I found this to be a complete joy all the way through. Heart-warming is a bit of a cliched expression but that's honestly what it was, and in my opinion quite as brilliant as Old Filth. Hooray for Jane Gardham -- long may she continue.