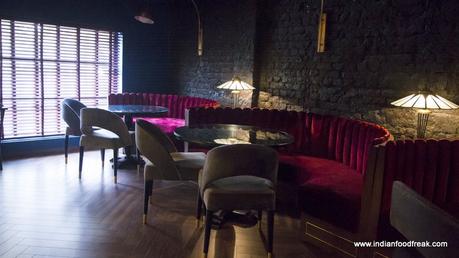 Last call reminds me of the announcements made at the airports as a last and final call for passengers who haven't proceeded towards boarding. But this Last Call has nothing to do with the same. This is a restaurant / lounge in the upscale posh Khan Market of Delhi. The market itself is a hub for eateries and has it's regulars people who simply love visiting Khan Market. Located next to Perch in the back lane of the Big Chill Cakery, Last Call is very well located with the restaurant having two levels.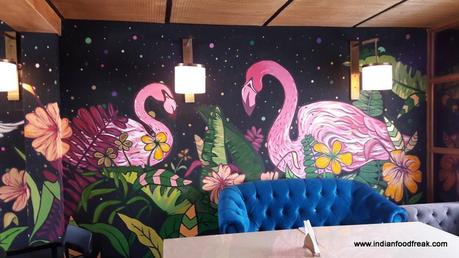 The lounge offers a European, Mediterranean and Italian dining experience. As we enter the building the stairway leads us to the first level which does not have ample lighting and gives a somewhat dingy feel. However am sure the place must be illuminating with the lights in the evening thus giving the ambience a completely different feel. We decide to go to the upper level and that instantly impresses with nice bright light, a terrace area with a fountain, a beautifully painted wall and various curios used to decorate the place. The interiors somewhat remind me of the British era.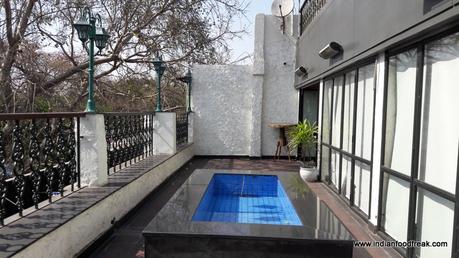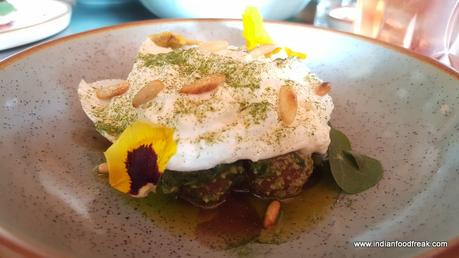 As we glance at the menu we realize it is a value for money food and drinks place which certainly makes it a crowd puller for youngsters. The meal begins on a lovely note with a couple of cocktails on recommendation of the bartender along with small plate of Burrata cheese consisting of cherry tomatoes marinated in Pesto Sauce, Pine nuts, Buratta cheese with micro greens. Goat Cheese salad has smoked creamy goat cheese mousse with roasted pepper, pine nuts, apple puree, basil dust and micro greens. I did not enjoy the burrata. It is normally available Flander's variant however it isn't as creamy as I have enjoyed at other places. The goat cheese salad is an exceptionally lovely eat except when we begin eating I notice that the lounge has chosen a different way of presenting most dishes. Instead of having the entire salad together the contents are presented separately which in my opinion could be presented all together. However it does not effect the taste of the salad so happy with the start.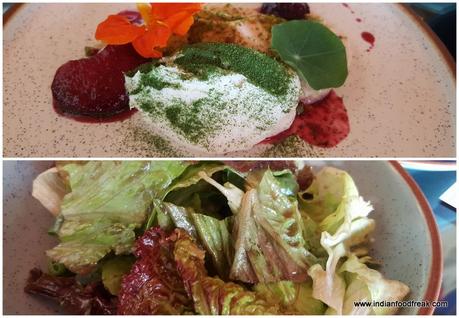 Prawn dynamite which comes next is delicious. These crispy fried tiger prawns with tobacco mayonnaise and mustard cress will have you asking for more not only due to the taste but the amazing pricing of just Rs189 at which the dish comes.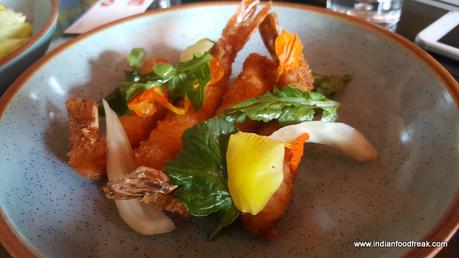 The Norwegian pan seared salmon is a must have here. Served with orange and fennel cream , charred asparagus and shock fried fennel this is a treat for fish lovers. A mix of veg and non veg is always good for people like us who eat both so we decide on a veg pizza. Capricciosa it is for us. The pizza crust is excellent with a topping of mushroom, artichoke, olives and sundried tomatoes.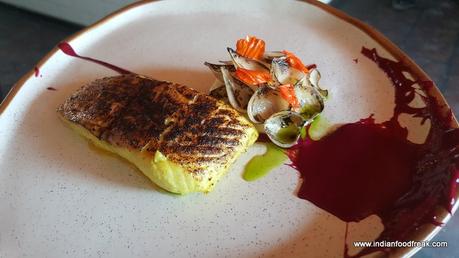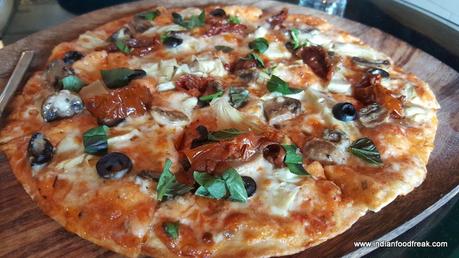 A meal is always to end on a sweet note. They have limited options in desserts currently from which we choose to have the classic cheesecake. Thoroughly enjoyed it from the first bite to the last.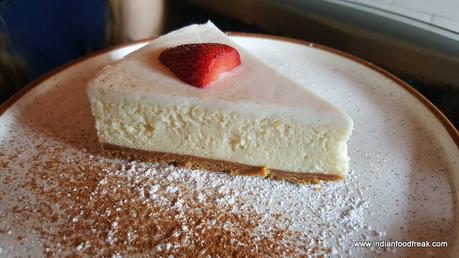 The young chef has done a wonderful job to make the meal experience for customers enjoyable with great tasting food. I come away impressed with the food with due credit to the Chef and the pricing which is a steal especially in a place as Khan Market.
Ratings (Out of 5)
Food: 4.0 | Ambience: 3.0 | Service: 3.5 | Overall: 3.5
Meal for Two: Rs 2000 (including drinks)  | Wheel Chair Friendly: No | Credit Card: Yes | Alcohol: Yes
Address: Last Call, 2 & 3 Khan Market Delhi | Phone: 9717937669
Disclaimer: This review was done on an invitation from the restaurant. Due judgment and care has been applied by the author to remain objective and unbiased in the review, but readers need to consider this review keeping this fact in mind .