Hello everyone,
How is the summer treating you all? The heat is killing us like literally. I have been indoors because I just can't bear the heat but my health is very poor since last 1 month. I feel sleepy and tired all the time. I am taking medicines but will also get a check up done. Anyways enough of my personal stories I shall be talking about a brand whose products I have reviewed on my blog a long time ago. I am talking about Lass Naturals. Their products are cruelty free and made of natural ingredients. You can check out my review on their products HERE. Today I shall be talking about their handmade soaps in this post. I shall be sharing my thought s on Lass Naturals Coffee & Oatmeal Handmmade  Bathing Bar  which I have been using since last few days. Read my review to know more....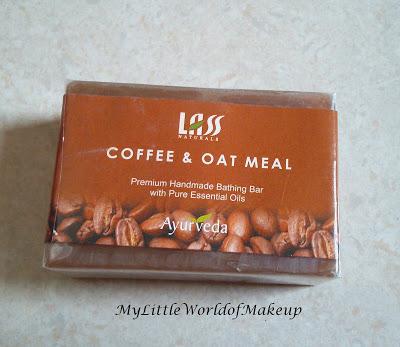 Price
: Rs.75/- for 125 g. Available online through Amazon or their website 
Also they ship internationally
Ingredients:
Coffee Bean Powder, Oat Bran, Cocoa Butter, Rose Water, Cotton Seed Oil, Castor Oil, Coffee Bean Powder, Oat Bran, Jojoba Oil.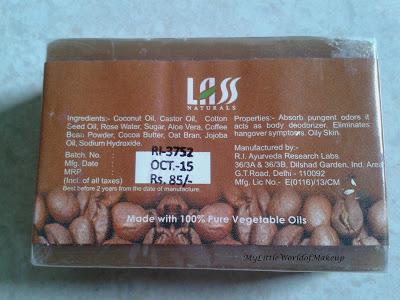 What does the brand claim:Fruit nutrients and vitamins hydrate skin to restore youthfulness & elasticity. Lightens pigmentation & skin tone.SLS, PARABEN & PHTHALATES FREEDirections for use:Firmly hold Lass handmade soap, as it may slip from your hands. Then run it all over your body, covering yourself in suds. Then thoroughly rinse your self off.The soap comes wrapped in a semi transparent plastic paper packaging. The front and back are labelled by the brand with their Logo and other information. It is ideal for gifting in my opinion.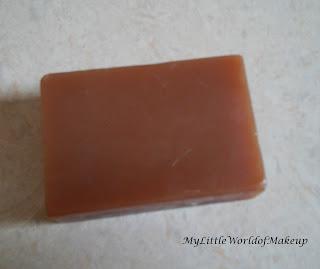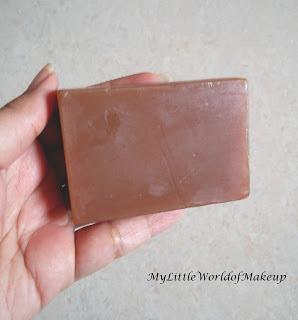 The bar is rectangle in shape and chocolate brown in color similar to coffee. It does not have any pattern or print on it.It smells heavenly and coffeish :D (is that a word :P ?) As mentioned by the brand you need to hold the soap firmly as it may slip from your hands so better keep your drain closed. The soap lathers well and does an amazing job of cleaning the skin leaving no sticky residue behind on the skin which I really like.It makes the skin firm post use. I did not see any skin lightening and it is difficult to claim about the same using just one bar. It is SLS, Paraben, Phthalates free and is easily available online. What more can one ask for? I really liked this soap.The Good:Easily available onlineInexpensiveContains coffee and oatmealMade of natural ingredientsHandmade soapIdeal for all skin typesDoes a great job of cleansing the bodyCruelty freeIdeal for giftingTravel friendlyThe not so Good:Tends to slip off handsCan't say about skin lighteningRating:4.5/5
Lass Naturals Coffee & Oatmeal Handmmade Bathing Bar is a 100% natural and handmade soap with the goodness of coffee and oatmeal and does a great job of cleansing the skin.I highly recommend.
So what you think of  Lass Naturals Coffee & Oatmeal Handmmade Bathing Bar??Would you buy it or have you tried it??Do let me know in the comments section. Thank you for taking the time to read this post. Hope you found it useful and informative.Until next time.. Take care xoxo

P.S: PR Sample** Unbiased review