Hey Las Vegas locals!
Do you know about Hatch Chilies?? I didn't either, especially since I'm not much of a cook, but I recently learned lots of interesting and amazing things about them! Now I'd really like to try adding them to a recipe or two. I do like a bit of spice here and there...
Like did you know that food connoisseurs wait patiently for these delicacies to add them to their salsas, sauces, casseroles, stir-fries, enchiladas, soufflés, omelets, tacos, rellenos, quesadillas and burritos or just about anything they want to heat up?  Or that Chilies are most often eaten green as a vegetable and when picked green, they're called long green Hatch Chilies?  When ripe, they're known as long red Hatch Chilies.  Plus, one fresh medium-sized green chili pod has as much Vitamin C as six oranges! And one teaspoon of dried red chili powder has your daily requirement of Vitamin A!
That's enough information to get me interested! So if you're like me and you live in the Las Vegas Valley, please go check out the Annual Hatch Chili Roasting Event coming up at your local Albertson's. You can see below for a list of times and locations. Enjoy!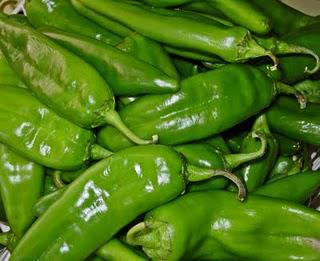 Saturday, August 13 and Sunday, August 14:
   Albertsons – 1650 N. Buffalo Drive at Vegas – store phone: 702) 562-6079
Saturday, August 20 and Sunday, August 21st:
   Albertsons – 8410 Farm Road at El Capitan – store phone: 702) 658-2030
Saturday, August 27th and Sunday, August 28:
   Albertsons – 575 College Drive at Horizon in Henderson – store phone: 702) 568-0115
Saturday, September 3 and Sunday, September 4:
   Albertsons – 7350 S. Rainbow Blvd at Warm Springs– store phone: 702) 739-1033