0 Flares
0 Flares
×
New to little Indiana? Subscribe for free to my RSS feed. Thanks for stopping by!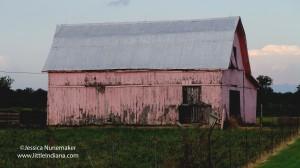 LaRita's Lodge Bed and Breakfast in Upland, Indiana
When you are trying to find LaRita's Lodge bed and breakfast in Upland, Indiana, you will notice the pink barns long before you ever view the large white pillared house.
Pink barns? Yes, you absolutely read that one right!
LaRita's Lodge Bed and Breakfast in Upland, Indiana
LeLand and LaRita Boren raised their family in this Upland, Indiana home. Affectionately known as the LeLaLo Farm, it was named for the first three members of their family.
LaRita originally hailed from Oklahoma. Well, in Oklahoma, as the story goes, the setting sun makes the barns look pink.
So, LeLand painted the barns pink to give his wife a glimpse of home in their small Indiana town. Isn't that a lovely story? You can bet there's plenty more good where that came from!
Today, their names are known for the great philanthropic works they have done for nearby Taylor University. LaRita Boren sat on the Board of Trustees at Taylor University for thirty years.
Indiana Bed and Breakfast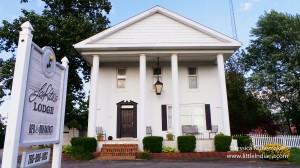 LaRita's Lodge Bed and Breakfast in Upland, Indiana
Although LaRita has since passed away, you can still enjoy this fabulous and comfortable country home.
I stayed in the Cardinal Room. Great windows, a neat painted tulip sink, and extra deep tub certainly made this a memorable Grant County stay!
Tromping around LaRita's Lodge property was truly a highlight–as was speaking with the wonderful innkeeper. At the end of the day, though, I settled in on a glider swing and read a book–with a sweet aged white kitty for company.
Of course, this was after I got to climb a fence and watch a baby bull get dinner! Definitely something you don't see every day and just another fun addition to a fantastic lodging option.
Go There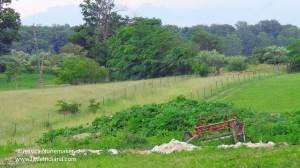 LaRita's Lodge Bed and Breakfast in Upland, Indiana
If you are pining for rest and relaxation, I can think of no better place than LaRita's Lodge Bed and Breakfast in Upland, Indiana.
Every inch of this place is comfortable and quiet. You are surrounded by cows, three bison, a llama, and a baby bull. I hope you enjoy your stay as much as I enjoyed mine!
Find pictures in Indiana on my Flickr photostream or on the new little Indiana Tumblr blog.
Just don't forget to tell 'em that  little Indiana sent you!
LaRita's Lodge Bed & Breakfast
9315 S 950 E
Upland, Indiana 46989
765.998.1002

View Larger Map
Don't miss a moment. Subscribe to little Indiana and receive instant updates to stay on top of everything "little."
little Indiana: Where to Stay, Play, and Eat in Small Towns in Indiana. Discovering Indiana's best small towns! Now get little Indiana on your Kindle.
Targeted. Relevant. Affordable! little Indiana advertising.