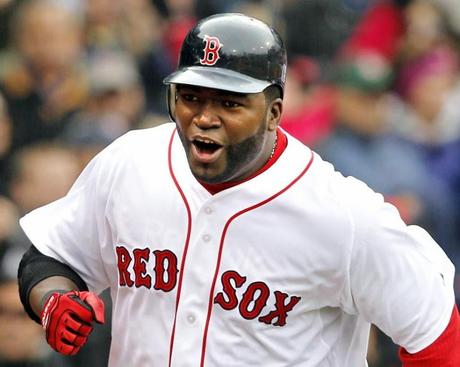 Our 4500th post at The Mighty Quinn Media Machine is some good Red Sox news, and not entirely unexpected.
The Red Sox and David Ortiz came to an agreement that was announced yesterday that will keep the 2013 World Series MVP in Boston at least through the 2015 season.
This wasn't a big surprise, and most fans are pleased that the deal got done before the 2014 season begins. But let's face it, the Red Sox are really the only team Ortiz could sign with, as most AL teams are not going with a single DH anymore. Whining about his contract is his standard MO, so you knew a deal was on the horizon.
Better to have a Happy Papi than an angry one.
Papi's deal is for $16 million for 2015, and there is a club/vesting option for 2016, which automatically happens based on him reaching a certain number of plate appearances in 2015. There is also a club option for 2017.
It's a wise move for the Red Sox. They and Papi are both satisfied.
Now let's get an extension for Jon Lester.