I was recently sent a Holiday VoxBox by Influenster. Talk about some goodies in my box! One of the products I was sent was a chocolaty goodness called Larabar. I'm not a real big fan of "protein" bars, because I find that most of the bars have that chalky taste. I don't know about you, but I prefer to use chalk on a chalk board not taste it in my mouth. So I will be honest, I was pretty hesitant about trying out this bar. But, I am a brave soul and took the plunge.
Larabar comes in different flavors. I received one of their new flavors, Peanut Butter Chocolate Chip.
Upon first taste, It was quit pleasing to the taste buds. You can truly taste every major ingredient. I tasted Peanut Butter, Chocolate, fruits & a hint of nuts. It has a "Brownie" type texture. Larabar is very chewy, and to my surprise wasn't not chalky at all!
I got the below nutritional facts from the Larabar website. I was sent a sample size, so keep in mind the facts that I list are for a full size bar.
Nutritional facts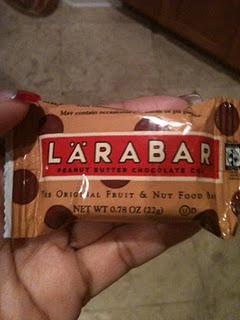 Sample size of Larabar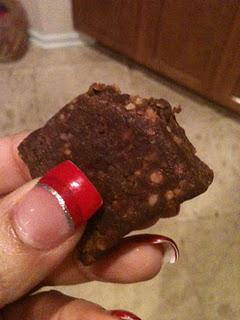 Looks like a delicious.. doesn't it!
Overall, I give it a 10.
So be sure to check out all of the other flavors that
Larabar
has to offer. Have you tried a Larabar? If so, leave your comments below & let me know what flavor you have tried.
XOXO