How terribly rude. I was right in the middle of a sentence when my word processor shut down. Then my computer. A system update. It's 4:00 a.m., the time I usually upload my blog post. You have to understand that I get up at 3:30 so that I have time to write. My laptop assumes nobody is working "in the middle of the night." I would've thought my fingers on its keys would've given it a clue. Now it tells me I'll have access, new upgraded system installed, in 25 minutes. Doesn't my laptop have all my personal details when it comes to shopping? You'd think it would know all my personal habits by now. I mean, this is the way I do it every day. Right now my concerns are secondary. This system update can't wait. I wasn't even given a choice. Power nap for Apple.
What disturbs me most is that my computer reads every word I type, yet it still thinks I'm just like everybody else. Who's awake and writing at 4:00 a.m.? And I thought we had a rapport, my laptop and me. I was the Skipper to his Little Buddy. The Agent 86 to her 99. The Will Robinson to its Robot. I guess I had it backwards all the time. The brain on my lap doesn't agree with the brain in my head. If I can't get my writing done now, it won't get done at all because at ten minutes to six I've got to be on that bus. New Jersey Transit doesn't offer working overhead lights much of the time, let alone wifi. It's now or never. My coffee's already gone and the next thing on my daily agenda is the shower. I always come up with ideas in the shower—I need my Little Buddy waiting for me when I rush out to write them down.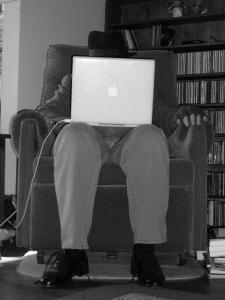 Who's sitting on whose lap? How could I have gotten something so very basic so terribly wrong? In ancient times the one sitting was superior to the one standing. When the computer's sitting on the one sitting we know who's really in charge. Let the one with eyes to read understand. I'm a busy man, but my Little Buddy—my Skipper—is busier. When's the last time I read a paper map? Opened a phone book? Wrote an actual letter? I can hear those bus wheels rumbling. Excuse me, but my master is calling.