The galaxy of which our solar system is just a tiny part is part of a giant supercluster of galaxies – regions in space, which are densely packed with galaxies. It was difficult for scientists to define where one supercluster ends and another begins. A team based in Hawaii has now developed a new technique for creating maps of the universe according to the flow of galaxies across space. They redefined our home supercluster and named it Laniakea, which means 'immeasurable heaven' in Hawaiian. So welcome home in mind-blowing infinity. A fascinating video of the international magazine Nature, which reports in its September 2014 issue about these new calculations.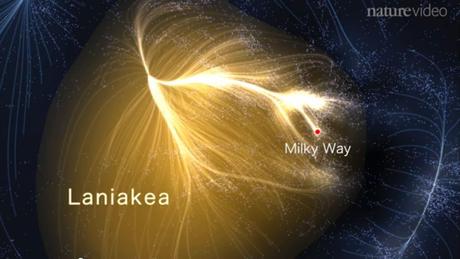 Laniakea – Our home of supercluster of galaxies, from the video, (c) Nature. Click on the picture to see it enlarged.
Another fascinating fact which has not yet arrived in our common understanding: Our solar system is a vortex, and the old heliocentric model of planets rotating around the Sun is just a limited perspective. The solar system is moving through space at 70'000 km/hour, and the Sun is like a comet, dragging the planets in its wake. "Rotation motion" and "vortex motion" are two completely different things. Life is a vortex, not just a rotation. The solar system is part of life. "DJSadhu" has created an impressive animation to illustrate this dynamic movement. The animation is not to scale, otherwise you could not see the solar system, the Sun or any of the planets. DJSadhu has also realised another animation about the Milky Way's journey through space at a speed of appr. 600 km/s.
Very interesting from a cosmological point of view: A complete revolution of the galaxy takes 226 million years. One precession cycle of the earth through the zodiac takes 25,920 years. Since one revolution takes 226 mln years, this would mean that there are appr. 8692 precessional cycles in one revolution. In this animation there are only 60.
So one galactic year is appr. 225,296,640 years. Now look at the Hindu units of time measurement: a manvantara consists of 71 mahayugas (306,720,000 solar years), a small part of a day of Brahma, whose total age is 100 years.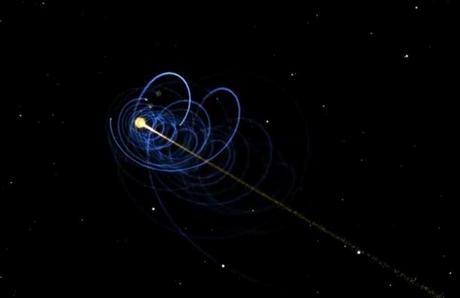 (c) DJSadhu. Click on the picture to see it enlarged.