The following is an announcement from the City of Lancaster regarding its continued efforts to reduce its carbon footprint: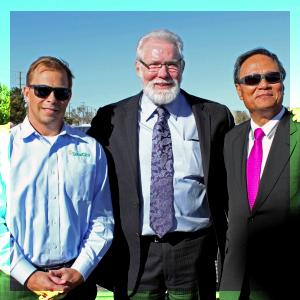 (L-R) SolarCity Project Development Manager Jeff Palmer, Lancaster Mayor R. Rex Parris, and Topco Chairman Joshua Chang – Courtesy City of Lancaster
U.S. Topco Energy
City of Lancaster
SolarCity
The second solar farm, a 2.3-megawatt array comprising 7,440 ground-mounted solar panels across 9 acres, is being developed under Southern California Edison's California Renewable Energy Small Tariff (CREST) feed-in tariff program. The utility will pay SolarCity for the solar electricity the farm generates, which will feed directly into the local utility grid. The first project was developed under the same program and totals four megawatts. Together, the two projects are expected to prevent the emission of more than 204.8 million pounds of carbon dioxide over their lifetime. *
"These vast solar farms are essentially pollution-free power plants. We expect the systems to generate enough clean, renewable energy to annually electrify more than 960 homes," said Lancaster Mayor R. Rex Parris. "That's the equivalent of taking almost 900 cars off the road or planting 442,000 trees every year for the next 20 years." *
Topco identified land for the second solar farm, drafted an initial design for the panel array, and launched contract negotiations for the feed-in tariff program. SolarCity will complete the design, handle all permitting, and build, own and maintain this new system, for which it secured financing. SolarCity, which has completed more than 1,000 commercial projects to date, recently partnered with Mercatus, Inc. to launch a software platform offered by SolarCity as a means of increasing collaboration with energy developers like Topco.
"In SolarCity, Topco found a partner with a demonstrated ability to implement large-scale projects as well as a deep knowledge of the project development process from start to finish," said Topco Chairman Joshua Chang. "Our goal is to significantly increase deployment of clean electricity nationally, and partnering with innovators like SolarCity and the City of Lancaster is critical to reaching the finish line."
The two solar farms are part of an ambitious plan expected to bring a total of 200 megawatts of solar to Lancaster.
"The City of Lancaster is excited to see our partnership with U.S. Topco Energy and SolarCity expanding," said Lancaster City Councilman Ronald D. Smith. "Our city is able to maximize our citizens' trust by collaborating with private sector companies specializing in various endeavors key to our community."
"SolarCity's objective is to simplify commercial and industrial project finance and implementation to help energy developers and civic leaders alike succeed in lowering energy costs and reducing carbon pollution through solar power," said Erik Fogelberg, Vice President of Commercial Development at SolarCity. "We hope that our work with Topco and the City of Lancaster serves as a model for other enterprises nationwide."
SolarCity also offers businesses and homeowners alike the chance to reduce their electricity bills by paying less for clean, renewable solar electricity than they pay to their utilities. Those interested in SolarCity's services can contact the company directly at 1-888-SOL-CITY (1-888-765-2489) for a free, no-obligation solar consultation or visit SolarCity online at www.solarcity.com/request. Candidates interested in employment opportunities can contact SolarCity via its online jobs form at www.solarcity.com/jobs.
* Environmental benefit statistics based on 20 year contract lifetime and data from the National Renewable Energy Laboratory and Environmental Protection Agency.