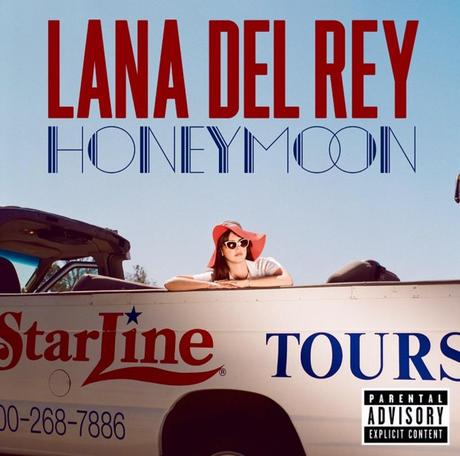 "We both know that it's not fashionable to love me."
Maybe you didn't think Lana Del Rey would stick around this long. Maybe you didn't ever think Lana Del Rey would make it this big. Maybe you watched SNL a couple of years ago, and were, despite yourself, glued to her sleepy, passive performance. "Damn!" Maybe you thought: "Where's the appeal? Her romance? Her bored delivery? Her pseudo-retro-musings. Curated words/phrases/cultural references tossed in for the cool factor: to help conjure a very specific image ("blue jeans/white shirt") in the minds of her young fans, who know that the only true cool is the cool from generations before. That even knowing about that cool automatically makes you cool — but which essentially mean nothing at all?"
Or maybe you don't think that way at all. But some do!
That said, despite endless bickering over Lana's merits as a pop-idol, she is, at the very least, important: injecting the pop spectrum with some down-tempo balladry, pomp, and gloom. And her newest effort, Honeymoon, released September 18th through UMG Recordings, is no different. The record is full of, as Del Rey's entire career has been, objectively beautiful songs, if truly slow ones.
Indeed, though Lana's penchant for string-laden dirges has largely set her apart from contemporaries, harkening back to the pop-icons of the 50's and 60's, her utter dependence on these 5-minute minor-key downers leaves the listener suffocated and sedated, their throat, filled to the brim with roses, ready for the modern tracheotomy that is any semblance of a modern touch.
This is why "High by the Beach" and "Art Deco" — although it contains the hook "You're so Art Deco, out on the floor/Shining like gunmetal, cold and unsure." — work so well! They're a reprieve! A brief break from the satin-textured, gentle ear-pummeling that is the rest of Honeymoon. Plus, as an added bonus "High by the Beach" includes the lyric "You can be a bad motherfucker/But that don't make you a man," inarguably the coolest thing Lana's ever sung. Go Lana!
Unfortunately, Honeymoon is pretty short-stocked on musings as off-handedly bad-ass as that one. The record, instead, seems to lean heavily on the assumption that Del Rey's pouty croon will conceal any lyrical shortcomings. Listeners are so distracted they completely bypass entire verses like:
"Leather black and eyes of blue
Sun reflecting in your eyes, like an easy rider
Life makes sense when I'm with you/
Looking back, my past
It all seems stranger than a stranger" (Freak)
I mean that's just boring. And what on earth does it mean? What do you think when you hear lines like "Pink flamingos always fascinated me" in songs called "Music to Watch Boys To" (which is, by the way, one of the most listenable tracks on the album)? What about when Lana sings about listening to "rock music" or singing "soft grunge" music, or the man in Miami who sings "jazz and blues" "like a boss"? Of course, she's in a risky position. Turn the knob on the specificity machine too high, and you'll alienate fans who don't know what you're talking about. To combat that, then, Del Rey and her team are perfectly happy manufacturing every pop-culture reference to be as general as possible. This is lowest common denominator cool. Which isn't really cool at all.
The latter half of Honeymoon, clearly meant to be the more "personal" section of the record, is a slog, but ends sweetly. "Don't Let Me Be Misunderstood," originally performed by Nina Simone, is a beautiful cover, lacking the deafening reverb of the rest of the album, lyrically more vulnerable than her typical cache of tropes and, thankfully, under 5 minutes. In the chorus Lana sings, "I'm just a soul whose intentions are good," and I believe that to be true. Lana set out to be a new voice in pop music, and she succeeded — part of the reason she's so divisive. The other part, of course, is that all of her records are boring.
And I guess I'm probably being unfair. People don't flock to Lana Del Rey to dance. At most, they flock to Lana Del Rey to sway side-to-side. Honeymoon, though, and careful not to take this as a compliment, really just makes me want to lie down.