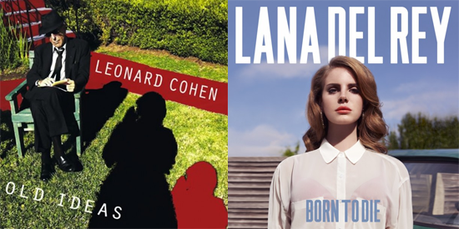 This week's top releases are on opposite ends of the spectrum. One album is a quasi debut from a reinvented chanteuse who seems to spark speculation with every move she makes. The other is a return-to-form from a beloved music industry mainstay.

Born to Die – Lana Del Rey // Buy
You're going to listen to this album. Whether you are a champion of Lana Del Rey (@lanadelrey) or a part of the peanut gallery that heckles her every venture, the curiosity that has built up these past few months over the formerly-known-as Lizzy Grant, "Gangster Nancy Sinatra" (oh please) guarantees that your ears will be glued to Born To Die the second it gets released. The opinion shared by many is that Del Rey is better on a recording than she is live (did you see the train wreck that was SNL?), so perhaps Born To Die is the first step in calming the haters and showcasing her unique voice. Born To Die is certain to ignite many more conversations.

Quite the opposite of an artist that people are still making up their mind about, Leonard Cohen (@leonardcohen74) has been a staple of the "love him or hate him" treatment since the late 60s. The theme of his newest album is age. He's getting up there (77) and Old Ideas is being called Cohen's most spiritual album to date and one more reminiscent of the early releases that made him such a staple in the folk rock landscape. The influences here are obvious: Dylan, Waits, Williams. Old Ideas should be a pleasant treat for Cohen fans, old and young alike.