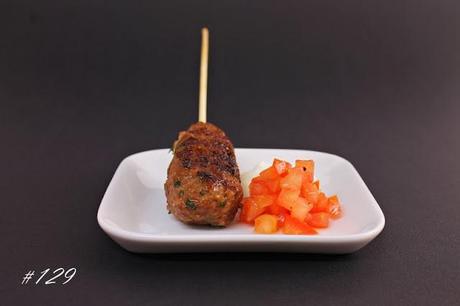 Lamb skewers are a great and spicy tapas that is packed with flavor, buy ground lamb meat and combine it with paprika, garlic and herbs. Make sure to check the fat content of the meat because lamb meat tend to sometimes be really fatty and the next be very lean. A fat content at around fifteen percent is perfect. If you can´t find meat with the right fat level you can mix it with either ground pork or beef.
Lamb skewers with tomato salsa & lemon yoghurt
ground lamb meat
parsley
oregano
garlic
paprika powder
olive oil
water
tomatoes
white wine vinegar
salt, black pepper
yoghurt
lemon
Combine ground lamb meat with chopped parsley, oregano, crushed garlic, paprika powder, salt, pepper a little bit of olive oil and some water. Combine the meat. Fry a little piece of meat to check the flavor before shaping the meat for the skewers. When you´re satisfied with the flavor then shape the meat to fit the skewers and grill them on high heat on each side. Continue to cook the lamb in the oven until done.
Dice the tomatoes and combine them with olive oil, white wine vinegar, salt and pepper and let marinade for one hour. Remove the liquid from the tomatoes and check the taste of the salsa.
Combine the yoghurt with salt, pepper and lemon juice. Serve the skewers with equal amounts of salsa and yoghurt.