I came across this foundation while browsing through the Lakme store. The packaging and look attracted my attention, so I thought of giving it a try.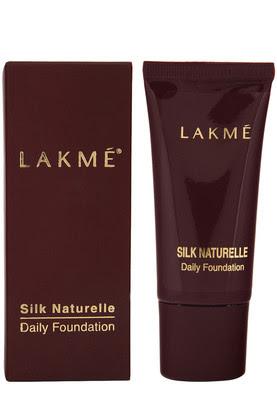 Claims:
Silk Naturelle is a weightless foundation that blends into your skin for a naturally beautiful and radiant finish. Its fresh, silky and delicate texture leaves your skin flawless as if wrapped  in silk. With gentle moisturisers and sunscreens - SPF 8, this natural make-up is designed to be used every day.
Price :
275INR for 27ml
Availability :
Available at online sites and general beauty stores. Here
Expiry :
30months from Pkg
I thought 27ml is a good quantity for that price. Sadly I think my pack wasn't 27 ml. I felt the quantity was less or maybe the tube is a bit bigger.
Anyways, getting to the product.
I have it in marble shade. It comes in 2 other shades, guess pearl and shell.
The shade doesn't exactly match with my tone. I guess that is the problem just with me.
The product is very light. It's not a heavy foundation and when applied doesn't give the feeling of a foundation laden face. If you can blend it nicely its gives invisible finish.
It does give a sheen and freshness to the face but it lasts only for an hour or a little bit more. It is not a heavy coverage foundation. So if you are looking for something to cover blemishes this is not the product for you. It provides minimal coverage.
You do get the silky feeling, but if your face is on the oiler side like mine it will kind of adds shine to it.
For dry skin beauties this one will work best for you as it is slightly moisturizing as well.
Pros:
Light weight
Adds sheen
Good texture
Doesn't smell bad
Moisturizing
Can be used daily
Cons:
Doesn't give high coverage
SPF 8* doesn't really work I guess.
Only 3 shades
Rating:

 

2.3/5
*ting*