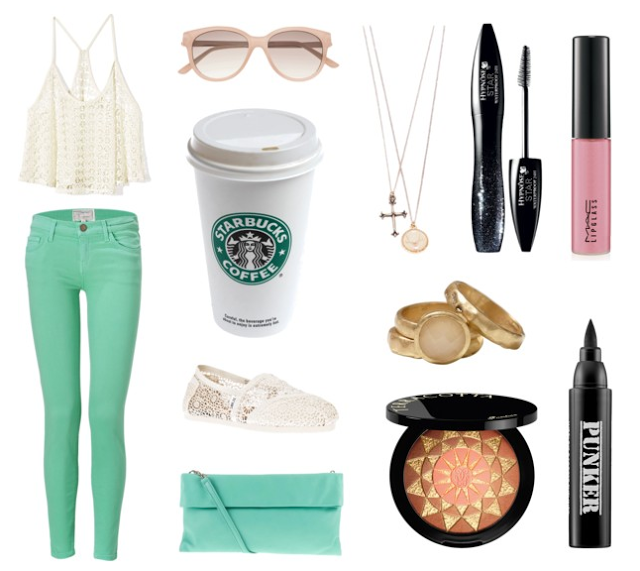 Link to set with Product LinksRecently, the weather has been perking up a bit in the UK so I thought that I would create an outfit to complement the mood that it has been setting. 
I love the color of these mint jeans from CURRENT/ELLIOT, perfect for spring I think everybody would agree and so easy to pair with different colours, making them incredibly versatile. Unfortunately they do come in at a whopping £120 so I don't think that they will be working their way into my wardrobe anytime soon but they are gorgeous and I am sure that dupes of them can be found everywhere!
The gorgeous lace crop top is from Victoria Secret and complements the crochet TOMS perfectly. It's a great price (£20) and so fun, flirty and feminine for an S/S piece, I think that it could look so pretty paired with high-waisted shorts or a pastel skater skirt.
For accessories I usually think that it is best to keep it fairly simple, especially with the lace in the outfit that already provides lots of detail.  This mint green bag from Zalando, whilst not being exactly the same color as the trousers, helps carry the color through and keep the outfit fresh and simple. The jewelry that I chose is delicate and although I am not really a massive gold person in general works really well with the other colours in the outfit. 
The makeup also reflects this, bronzed but still naturally giving a gorgeous glow to the cheeks. The bronzer has possibly the most beautiful pattern ever in it and I have heard great reviews about all the other makeup here. 
What are your outfit plans for summer? Would you wear this?