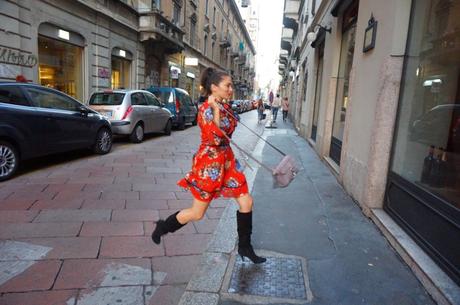 We've all heard the saying that if you don't know what to wear - wear red! Well, case in point I suppose. I always seem to stress about about what to wear during Fashion Week, I know it is silly, but meeting with "fashion-types" makes me nervous! Add in the possibility of meeting important people, having your photo taken and trying to make a great first impression and you have one socially awkward "style blogger".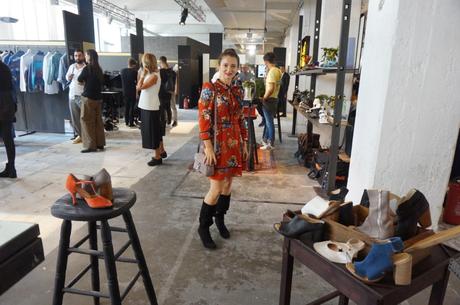 First of all let me just say that I'm in a blogging mood this week, but that is an anomoly. I've started a new office job that I am 100% dedicated to and so my energy+time is stretched as far as resources go. The thing about blogging is that it brings me incredible happiness, and so I will never let this hobby/job go! I think about everything in terms of the long-term...very long term. As in, if I keep blogging I intend on transforming this blog eventually in to an over 40 style blog, an over 50 style blog, an over 60 style blog...you get the picture!
Magic in Milan - NONOSTANTE MARRAS
I was in Milan for the Fashion Week and the WHITE SHOW fashion fair, which you can read about in this article along with an interview with the Fair's founder Mrs. Bellei! The White Show in Milan is the world's top destination for multi-brand stores hoping to discover new up and coming brands, there were also a ton of #selfie opportunities that I didn't miss!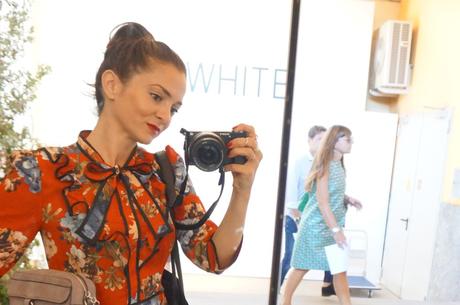 I managed to find some time to meet up with one of my girlfriends Cristina Provenzano. Cristina is a television anchor woman and journalist who recently uprooted her life in Modena to move to Milan with her fiancée and baby.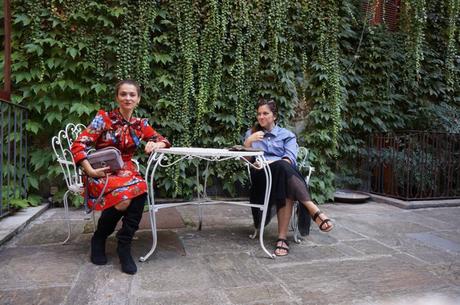 She wanted to take me somewhere special, somewhere she knew I would appreciate and so we set out for an afternoon adventure. We ended up at the incredible concept store/showroom by Antonio Marras "Nonostante Marras" - literally translated to "Despite Marras", since the designer was not keen on the idea of the store to begin with!
There is no public entrance to the store which is actually more of an eclectic living room filled with vintage artifacts, traditional Sardinian ceramics and pastries, plush velvet furnishings and of course, Marras' entire collection along with other brands that are on sale, specifically selected by the Italian fashion genius himself.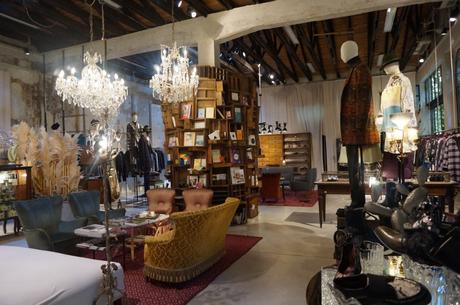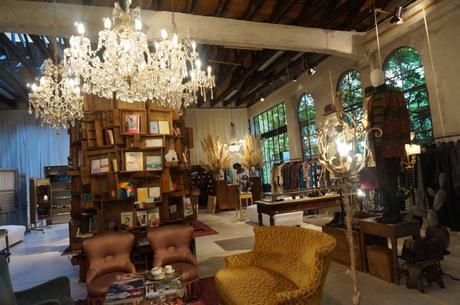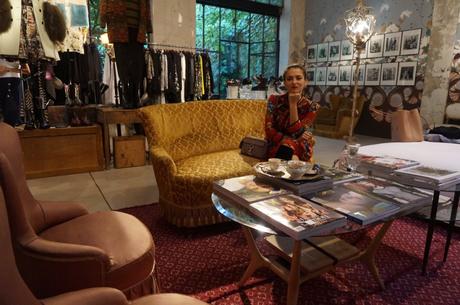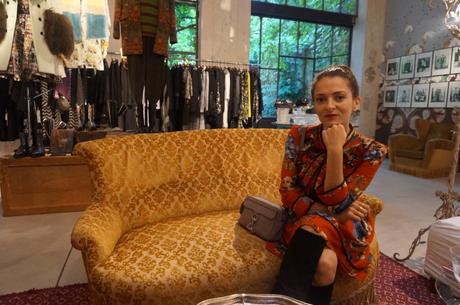 At street level you have to buzz-in for someone to open the door, then you walk through to the garden courtyard where you can either go down a set of stairs into the public store or head to the left to a showroom for multi-brand luxury stores to place there orders of the Marras collection. When we went there was MARRAS HIMSELF in his showroom, preparing for an event and greeting buyers from all over the world.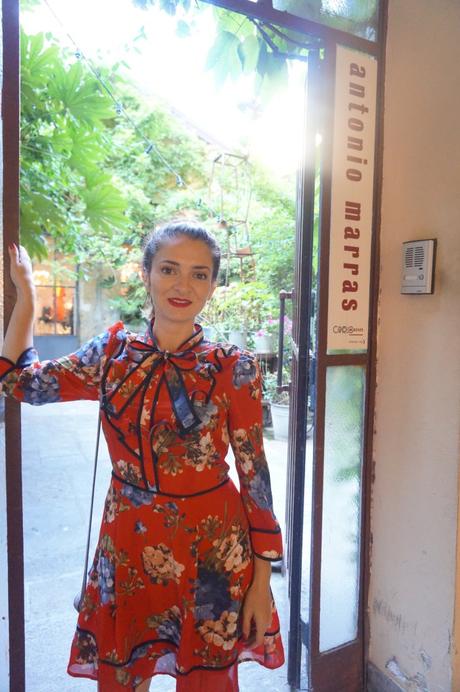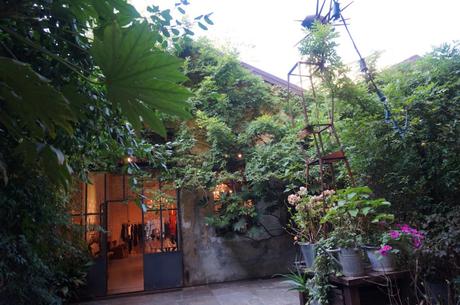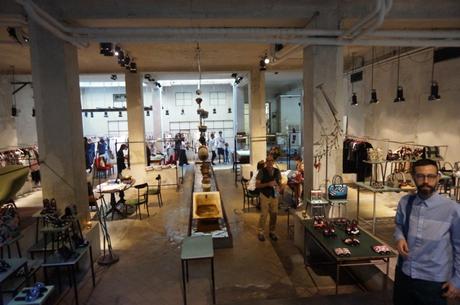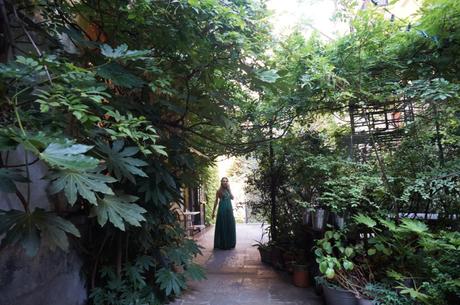 I was so nervous and shaky when I asked him if he wouldn't mind taking a photo with me and when he said yes I felt the type of joy that is reserved for those once in a lifetime moments!
My friend Cristina recently spent an entire day interviewing Marras about the opening of this new concept space, that over the years has been receiving more and more attention. Marras has single handedly brought the traditional crafts and workmanship of his native Sardinia to a high-fashion status symbol. Marras is to Sardinia what Dolce and Gabbana are to Sicily!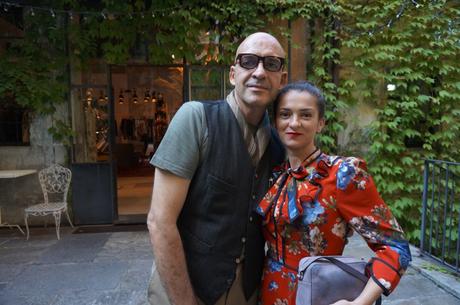 Good Friends + Bad Decisions
I don't know if you remember the random guy I met in February during the Milan Fashion Week. His name is Theo La Motta, a super creative photographer, graphic and web artist and videographer....to name just a few of his many talents. He's from Jersey and we randomly connected outside of the Fendi show. That turned into me asking him to help me with an article for a luxury Truffle based restaurant in Milan (which I reviewed for an American magazine and wrote a bit on the blog here) and then we ended up starting a video project together for a new Kickstarter Campaign.
Fast forward a few months ....and Theo, or "Teddy" as he is sometimes lovingly called, has turned out to be a super cool guy friend, the likes of which was totally missing from my life. We talk about all of his lady's (I should start calling them Teddy's Angels!) and Theo and I were on assignment in Milan covering the WHITE SHOW fashion fair for the fashion magazine he is the Editor of LAVISH MODE Magazine - you can read the article here.
Theo also inspired me to RELAX and have more confidence in myself. I asked him to help me take pictures of my outfit and even though he was limited with my mirrorless camera, the pictures turned out to be some of my favorites EVER.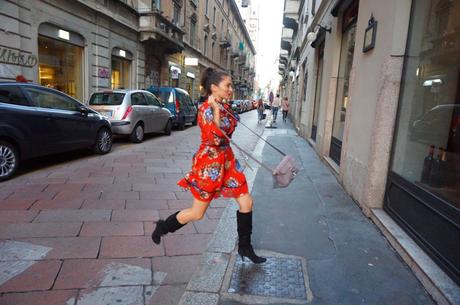 THANK YOU THEO!
That evening he introduced me to a few of his friends and the rest of the night is a blurrrrrr, honestly I don't know how I got back to the hotel, but I do know that I *really* needed a night of poor decision making because it was fun! He took me to a place called PINCH in the Navigli area and then to another spot that I don't remember.... the moral of the story is make friends with boys that are 10 years your younger!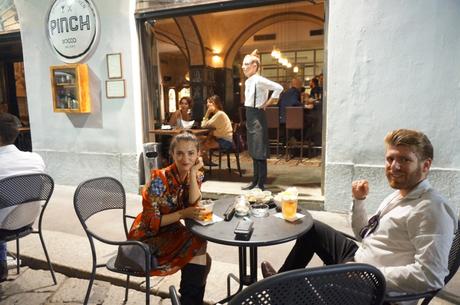 What I Wore
I love this dress. It embodies everything I love about the "60s Geek Chic" Revival that is happening right now in fashion thanks to brands like Gucci, Prada, MiuMiu and Fendi (I've blogged about how to wear this trend to work here along with this look and this look!).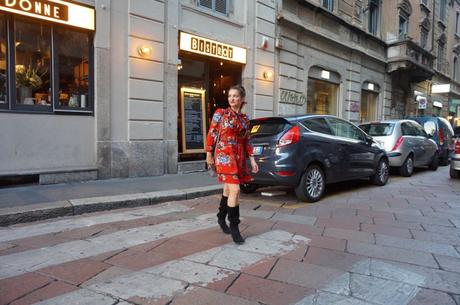 Designer luxury brands remain out of my price range, so I'm thankful for high quality designs from mid-range brands like re:named! This is the re:named Red Ruffle dress that is still available is S,M and L on Shopbop.com for only $74 ! Plus it is currently part of Shopbop.com's largest sale of the season where you can get 25% off of your order using code MAINEVENT16 at check out , which means that for 3 days it is only $55!! AND If you spend over $500 your savings becomes 30% off your order!!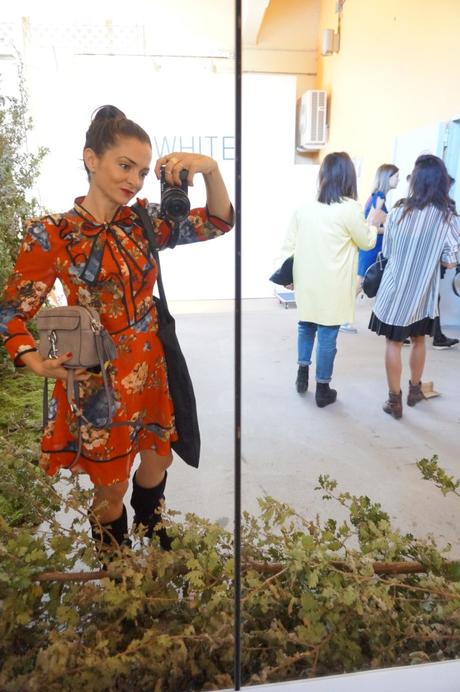 I'll be featuring two more re:named designs on the blog including this stunning pink velvet bodycon turtle neck dress that I'll be styling for a Christmas party. It is still available in size M for only $51 and if you get it FAST using code MAINEVENT16 you can save an additional 25% .... because we ALL need pink velvet dresses in our lives, am I right?
My boots are by the Italian brand Mina Buenos Aires which I've featured in this post and by bag is the Rebecca Minkoff MAB Camera Bag in Lavender found on Shopbop.com here for $175 + 25% off during the 3 day SALE!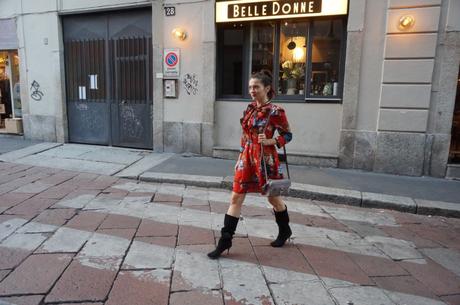 Don't forget to check out the sale and if you end up buying this dress please feel free to send me a picture!