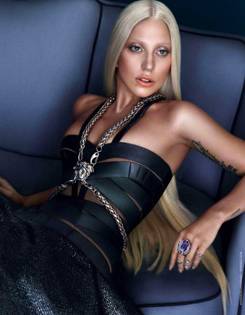 So when I heard Lady GaGa was coming back all I could think about is her music dominating the airwaves and her songs getting stuck in my head. But that was not the case. i won't call Artpop a flop, but it didn't sell or influence as much as I thought it was going to do. Recently Lady GaGa has been on a mission to get people interested in Artpop again. speaks to NRJ Radio about her rumored 'ARTPOP 2′ release and upcoming artRAVE tour. Here's what she had to say:
 
 "I wrote so much music for ARTPOP and I've been writing more as well. I have thought about putting out the second act and right now I'm just getting ready for the tour. It's actually very different from what is on the first act, I think that's why I say it will be "Act 2″ because it's a proArtpopgression. It's very important that when I put music out that you hear a really strong evolution because I'm changing all the time. So, I'm hoping to put it out within the next year and I'm also very excited that me and Tony Bennett are putting out a jazz album together called 'Cheek to Cheek' together this year."
I think she should just focus on her tour because she is known for giving people a show. The other stuff can disappear and never be mention again.