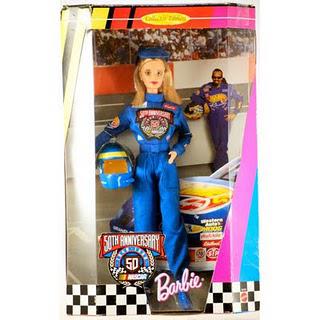 Y
ears ago, in my past life as a SWF newspaper reporter, I was a racing fan. It doesn't seem possible now, because I'd rather sit through a Head On commercial than to watch a single droning second of a car race. I guess it just goes to show you that people can change.
Racing dropped into my lap, much like hockey did years later, when we moved to New Jersey, right across the street from hockey star Joel Otto, and instantly became Flyers fans. Watching Ben and Kasey's daddy beat the living crap out of guys on the ice until blood splattered up against the Plexiglass was
the
thing to do, so, yeah, we were hockey fans.
I became a racing fan when, as a reporter in Coshocton, Ohio, I was offered free tickets to Mid-Ohio race track by the sports editor. He handed me a press pass and said I could eat for free, drink all the free beer I wanted, and get into the winner's circle, as long as I gave him a photo to run on Monday.
So,
yeah
, I was a racing fan.
And - bonus - the first time I went to Mid-Ohio, Paul Newman was racing. I snapped some photos of him. Also took some photos of Joanne Woodward, who was walking two little fluffy dogs outside a trailer.
I became a semi-regular there, along with my friends Helen and Steve. Helen, an ad rep who I worked with, was an actual racing fan, in that she knew some of the driver's names who weren't Paul Newman, and she could recognize their cars. Steve was Helen's friend who, as far as I know, was independently wealthy and spent his days having lunch with Helen and me, and going to movies. Steve could always be counted on to come along to anything that anyone was doing. Anywhere.
Let me take a minute here and describe what it was like being a young, single working woman living in a town in rural southern Ohio. There wasn't a whole lot to do in Coshocton, a town known mainly for a canal that had been turned into an historical village. You could get a dulcimer repaired easier than you could get a martini. I spent a lot of my free time at the library. Thanks to my employer, I didn't have a lot of hours in the day where I wasn't working. The paper I worked for didn't pay overtime, but gave us comp time when we covered meetings at night, but there never seemed to be a good day to take some time off. There was always something going on down at the canal that had to be covered, or the vo-tech kids were up to something newsworthy, plus the county fair was, at the most, 11 months away. When I left the paper, I think I had 620 hours of comp time built up.  So,
heck yeah
, I was a racing fan.
The actual races are kind of a blur. Other than following Paul Newman around, I don't remember much. There was a lot of food in the press tent and some of it wasn't covered in flies. And there was keg after keg of beer. I think there were some cars, too. I always made sure I snapped a couple of pictures for the sports editor, so I could keep my sweet deal going.
As soon as I left Coshocton, I stopped going to races. Couldn't even remember what kind of car Paul Newman drove (although I think it might have been a Datsun, weirdly . . . Can that be right?) Watching car races just wouldn't be the same without the free food, beer, and movie stars in the middle of rural Ohio.