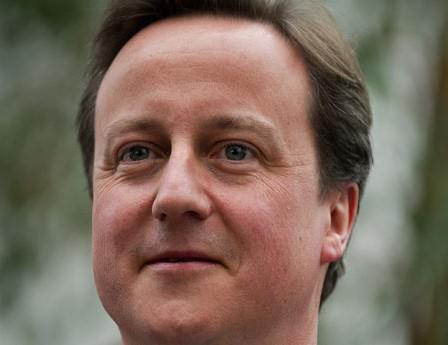 British Prime Minister David Cameron in Bangalore, July 2010. Photo credit: Downing St/UK in India

As the political parties prepare to do battle during the coming conference season, Labour is developing a new strategy to paint David Cameron as an old-style, traditional Tory, according to a leaked letter obtained by The Observer. According to the leaked letter, which was written by Labour MP Shaun Woodward, the opposition are determined to show Cameron has abandoned the centre ground in recent months to adopt a more orthodox conservative stance on issues such as law and order, immigration and welfare.
The creation of the strategy follows reports last month that Cameron had polled negatively for the first time, with more people saying that the prime minister was doing a bad job than those backing him, reported The Guardian.
Labour's intention to directly target Cameron caps a long, hard summer for the prime minister. Cameron's close ties to both Andy Coulson and Rebekah Brooks meant he felt the full force of the New International phone hacking scandal and his response to the riots has been widely criticised. The collapse of Colonel Muammar Gaddafi's regime has been one of the few highlights in Cameron's uncomfortable summer.
However, while Cameron is under some fire, conservative commentators insist that the Tory leader remains roundly popular in the grassroots of his party in the run-up to conference season.
Cameron has the support of his predecessors. Writing at The Times (£), ConservativeHome editor Tim Montgomerie said the "Conservatives' rediscovery of their secret weapon of loyalty" is a key development. Montgomerie argued that Cameron will be able to avoid "internal meltdowns of loyalty" and "be master his party for many years to come" because he has developed a supportive cabinet and, crucially won the support of his predecessors. "If Mr Cameron ever faced serious internal problems, both Mr Hague and Mr Duncan Smith would be first to the ramparts to crush dissent," informed Montgomerie, who said that it is now Labour who are the "fratricidal" party.
Don't' relax now Cameron. Writing at The Financial Times, Cameron's former adviser Danny Kruger insisted that it's "no time to relax Cameron." Kruger said, "Cameron is basically a very relaxed man, who rises brilliantly to a crisis" but warned, "the lustre of war leadership will fade quickly. The question is whether he maintains the critical momentum, or relaxes back again." Turning to Cameron's upcoming conference speech, Kruger urged Cameron to "go high" and "go deep" in a push for wide-reaching social reform, and argued that "in the riots, (Cameron) has found the purpose for his premiership: thorough social reform." Kruger implored Cameron to embrace the "moral project" and to "talk to us of the things that matter behind the things that count."